Undergraduate
Society of Women Engineers Hosts 2023 Career Day for Girls
Around 70 Chicago-area middle school and high school students visited campus as part of the February 25 event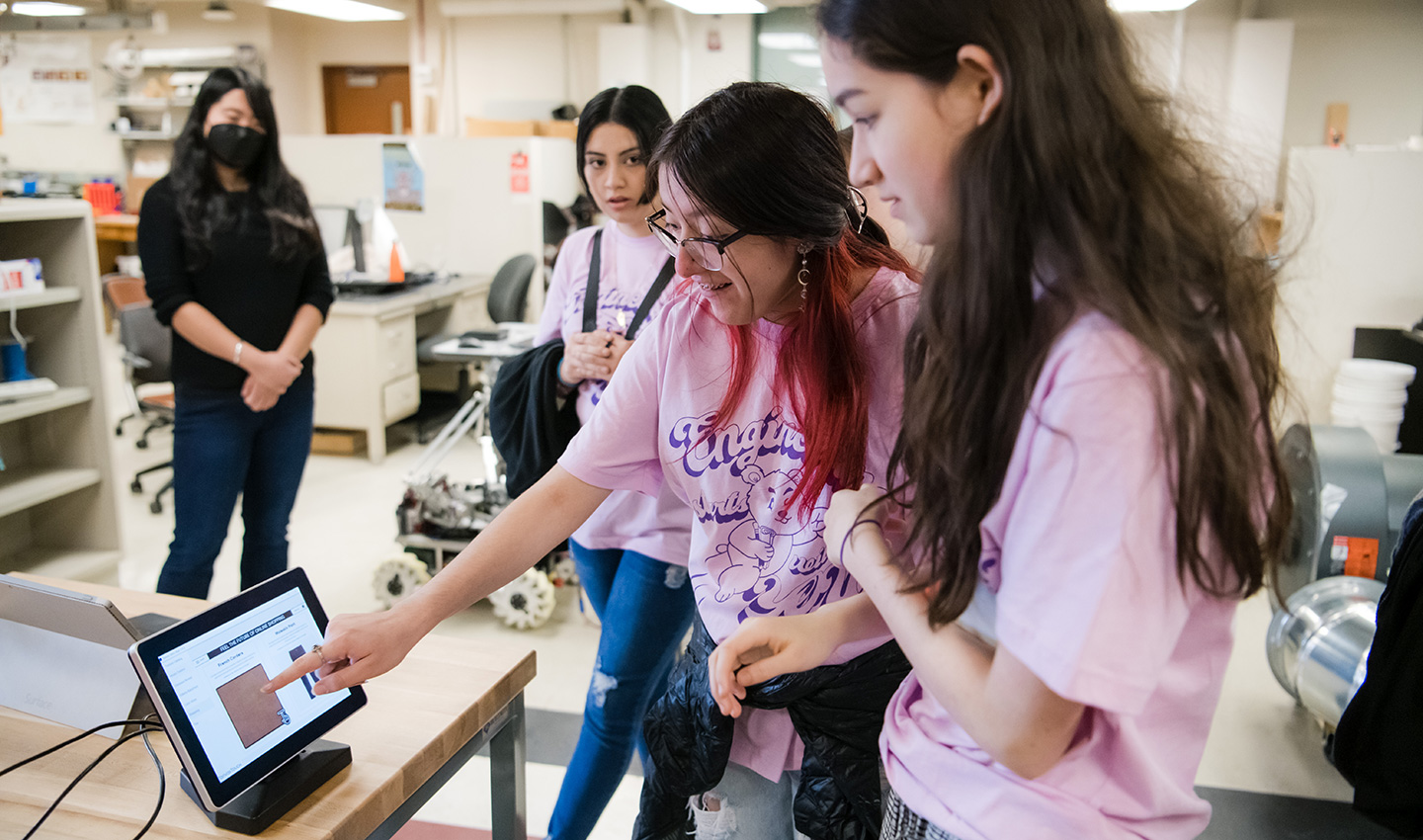 On Saturday, February 25, the Northwestern undergraduate student chapter of the Society of Women Engineers (NU SWE) hosted Career Day for Girls. Around 70 students from nearby schools attended the 52nd annual event, which featured the theme "Engineering Starts with YOU!"
The program was designed for female junior high and high school students, but open to students of any gender identity who are interested in science and mathematics. Career Day for Girls is NU SWE's largest on-campus outreach event, hosting students from the Chicagoland area for hands-on engineering activities and competitions. The program included education and career information about opportunities in engineering and applied science.
The program was divided into separate paths for the middle school students and the high school students. The high-school cohort visited the Querrey Simpson Institute for Bioelectronics, the AutoAquaponics team in Northwestern's chapter of Engineers for a Sustainable World, Northwestern University's Atomic and Nanoscale Characterization Experimental Center, the Segal Design Institute's 3D Printing and Rapid Prototyping Lab, and labs from the Center for Robotics and Biosystems. Meanwhile, the middle-school group visited labs in materials science, the AutoAquaponics team, and the 3D Printing and Rapid Prototyping Lab. Both groups took part in an engineering challenge, and the high schoolers heard a panel discussion with six engineering graduates from Northwestern and other universities.
This year's keynote was delivered by Anna Deng (CS '20), a software engineer at Disney+ in San Francisco. During her time at Northwestern, Deng served on the executive board of Women in Computing.
"Career Day for Girls is the kind of event that really can change a kid's life. We always hear about participants that decided to pursue STEM after attending," said Julia Azevedo, a junior studying industrial engineering and NU SWE's outreach director. "It is incredibly important to give these students a day where they can see and hear from so many women in the field who can talk about all the doors that engineering can open for them.
"It is also inspiring for all the volunteers, lab guides, parents, and teachers involved. We are really happy with how this year's event went. It was great to see so much of the McCormick community volunteering and I believe the students enjoyed all the programming." 
Career Day for Girls has been held annually since 1970 when only 4 percent of Northwestern Engineering students were women. Today, approximately one third of engineering undergraduate students identify as women.
With more than 300 members, NU SWE has a strong and growing presence on campus. Centered on three fundamental pillars – outreach, professional development, and social development – the group's mission is to build a supportive community of female engineers at Northwestern and beyond.
The Society of Women Engineers is a nationally recognized professional, educational, and service organization dedicated to supporting women in science and engineering. They aim not only to empower their members to fulfill their full potential as engineers and leaders, but also to inspire the next generation of engineers through STEM outreach programs.