Honors and Awards
Arthur Prindle Receives Prestigious NSF CAREER Award
Award funds research into understanding group behaviors in bacterial biofilm communities
Northwestern Engineering's Arthur Prindle has received a Faculty Early Career Development Program (CAREER) award from the National Science Foundation (NSF), the foundation's most prestigious honor for junior faculty members.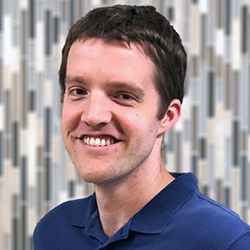 Prindle, assistant professor of biochemistry and molecular genetics at Northwestern's Feinberg School of Medicine, and assistant professor of chemical and biological engineering at the McCormick School of Engineering, will receive $561,450 over five years from NSF's Division of Molecular and Cellular Bioscience.
The award supports early career development of individuals who exemplify the role of teacher-scholar through outstanding research, excellent education, and the integration of education and research.
A member of Northwestern's Center for Synthetic Biology, Prindle studies how molecular and cellular interactions give rise to collective behaviors in microbial communities. Prindle and his lab use synthetic biology, quantitative microscopy, and microfluidics to directly investigate the molecular mechanisms behind how cells communicate across broad spatial and temporal scales. His goal is to apply these principles to develop new synthetic biology approaches to biomedical problems through microbiome engineering.
With his CAREER award, titled "Uncovering New Rules of Multicellular Life Using Synthetic Microbial Communities," Prindle will work to understand the emergent coordinated group behaviors in bacterial biofilm communities that arise from cell-to-cell signaling mechanisms, and how these emergent behaviors impart functional community-level benefits. The project uses synthetic microbial communities to systematically construct mixed biofilms that can be quantified with single-cell resolution using microfluidics. Aided by a mathematical model, metabolic signaling dynamics will be mapped to changes in membrane voltage for a set of mixed biofilm populations.
Understanding how bacterial communities are coordinated to respond to their environments could provide an untapped source of new biology that could be harnessed for both basic science and biomedical applications. This new understanding could be applied to a range of circumstances from overcoming biofilm antibiotic resistance to developing in vivo microbial diagnostics using synthetic biology.
This multidisciplinary research project also provides fertile ground for quantitative training opportunities for students in systems and synthetic biology, and will attract students interested in pursuing new areas of scientific inquiry using the latest research on microbial communities.
"I am honored and excited to be an NSF CAREER awardee and proud to represent Northwestern, the McCormick School of Engineering, the Feinberg School of Medicine, and the Center for Synthetic Biology with this achievement," Prindle said. "This award will allow us to build essential knowledge for how microbial cell-to-cell interactions give rise to higher-order community behavior, which is a key roadblock in the path towards next-generation microbiome-based products and therapies."