Honors and Awards
Fresh Ideas in Curriculum to Revamp Engineering Course
Jeremy Keys will receive The Alumnae of Northwestern University's Award for Curriculum Innovation
Northwestern Engineering's Jeremy Keys has been named a 2023 recipient of the The Alumnae of Northwestern University's Award for Curriculum Innovation.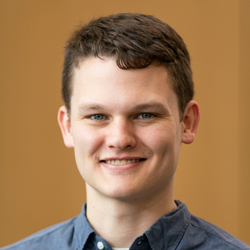 Administered by the Office of the Provost, the award recognizes and supports faculty who have innovative ideas for new courses, methods of instruction and components of existing classes.
The award comes with $12,500 in funding to be split between innovation development ($7,000), stipend ($5,000) and the faculty member's home department ($500). Keys will be recognized during a reception in the spring.
Keys will be recognized along with Denise Bouras, an associate professor of instruction in the Weinberg College of Arts and Sciences' Department of Spanish and Portuguese.
Re-inventing Mechanical Engineering 240: Increasing engineers' inductive learning through product archaeology
Keys is an assistant professor of instruction in the McCormick School of Engineering's Department of Mechanical Engineering.
Keys plans to use the award to revamp an existing class, "Mechanical Engineering 240," by introducing "product archaeology" labs in which students will disassemble consumer products to learn about the embedded functions of their key mechanical components — a bit like a dissection in biology, but for household products.
Doing so will improve students' appreciation for common mechanical assemblies as they interpret how engineers achieve desired mechanical functions. During the course, students also will redesign a load-bearing component of an existing consumer product and use advanced 3D printing methods to create and share their prototypes.
Keys joined Northwestern in the Fall of 2022 as a teaching-line faculty member, having just completed his PhD at Cornell University, where he studied the biophysical mechanisms that control cancer cell migration using microfluidic devices. In addition to "MechEng240," he teaches the senior capstone course for mechanical engineers as well as "Engineering Analysis 3," a system dynamics course for second-year engineering students.
The Alumnae of Northwestern University is an all-alumna, all-volunteer organization that raises funds to benefit the University across a broad range of projects. The Alumnae also seeks to share the University's academic resources with the community through its Continuing Education program. Since 1931, The Alumnae has given more than $9.5 million to the University in the form of grants, fellowships, scholarships, and an endowed professorship. It also has provided funds for special University projects and summer internships.