Announcements
Shelley Finnigan Named Director of MPM, EMDC Programs
Finnigan will succeed Professor Raymond Krizek, who is retiring at the end of August
Shelley Finnigan has been named director of Northwestern Engineering's Master of Project Management(MPM) and Master of Science in Executive Management for Design and Construction (EMDC) programs. Her appointment is effective September 1, 2022.
Finnigan will replace Raymond Krizek, Stanley F. Pepper Professor of Civil and Environmental Engineering, who will retire from the McCormick School of Engineering at the end of August.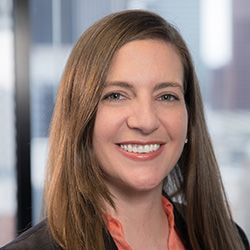 "As founding director of both the MPM and EMDC programs, past chair of the Department of Civil and Environmental Engineering, and a scholar recognized for his research as a member of the National Academy of Engineering, Ray leaves a significant legacy of excellence at Northwestern. We are grateful for his immense contributions to our school," Dean Julio M. Ottino said. "Shelley's commitment to innovation, passion for construction management, and extensive network made her an ideal candidate. We are delighted to have her lead MPM and EMDC into the future."
Finnigan has spent more than 15 years in the design and construction industry, where her experience includes structural design, project management, marketing, and business development. She joins Northwestern Engineering from ArcelorMittal International, where her leadership has steered a variety of technical marketing initiatives, and she collaborates with executives in the architecture, engineering, and construction community.
Through her stewardship in the steel industry, Finnigan has impacted construction projects all over the globe. Before joining ArcelorMittal, she was structural engineer at Thornton Tomasetti, where she contributed to the structural design of a wide portfolio of projects ranging from a 35-story high-rise building in Charlotte, North Carolina, to Jeddah Tower in Jeddah, Saudi Arabia, which will stand at more than 1,000 meters in height upon completion.
Drawing on extensive industry experience, Finnigan has worked closely with design and construction professionals, trade groups, and academia to drive transformative changes in their designs to improve key outcomes such as project costs, constructability, and sustainability. Her contributions include 150 N. Riverside in Chicago, Mercedes-Benz Stadium in Atlanta, and the BMO Centre expansion that is currently under construction in Calgary.
Finnigan has served as founding chapter chair of the Chicago Chapter for the Council on Tall Buildings and Urban Habitat since 2018. She is also chairperson of the Editorial Task Committee (TC2) of the American Institute of Steel Construction (AISC), and she serves as a member of AISC's Committee on Specifications and the Materials Task Committee (TC10). She is frequently a speaker at international technical symposiums and conferences, including NASCC: The Steel Conference in March 2022; Collegio Dei Tecnici Dell'Acciaio, Edifici Alti in 2021; and the CTBUH 2020 Live-Streamed Conference.
A licensed structural engineer in the State of Illinois, Finnigan holds bachelor's and master's degrees in civil engineering from Purdue University.