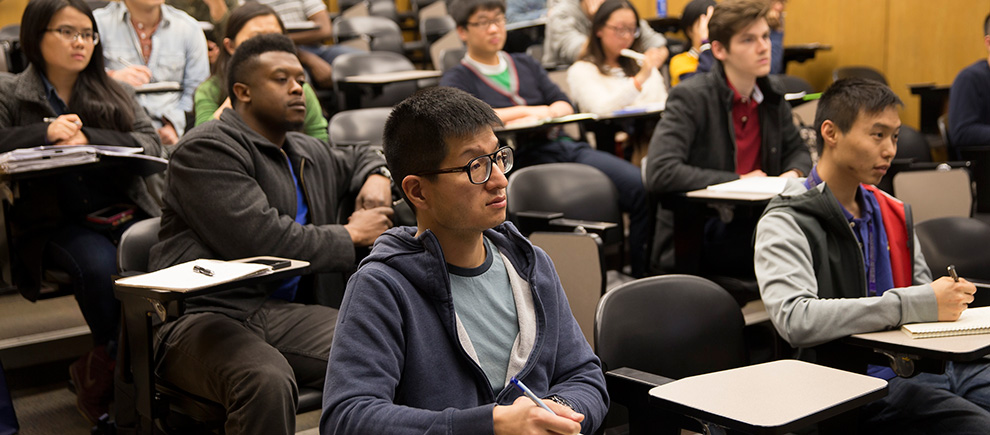 Attend our seminar series and learn from distinguished experts
Every Monday MPM hold a seminar that teaches students how to increase productivity; acquire and refine industry specific skills; and learn best practices from experts.
Welcome to the

Master of Project Management (MPM)

The Master of Project Management (MPM) program is designed to prepare technically qualified individuals for leadership roles in the construction, operation, and management of major civil and environmental engineering projects.

Drawing on the expertise of renowned faculty practitioners, this program combines education in essential concepts of civil and architectural engineering design with the functional concepts of business management and behavioral science. Our graduates emerge as versatile and technically oriented professionals capable of directing major public and private infrastructure projects in today's increasingly complicated managerial environment.
Specializations
The following five specializations are available in the MPM program, depending on the interest and experience of the participant:
A/E/C Business Management
Construction Management
Real Estate Development
Sustainability
Transportation Management
Learn more about specializations
Quick Facts
Degree Name

Master of Science in Project Management

Duration

Part-time: 18-24 months
Full-time: 9-18 months

Course Structure

Part-time: 0.5 to 2 courses per quarter
Full-time: 3-4 courses per quarter

Program Features

Flexible curriculum
Courses taught by industry experts
Capstone report
Weekly seminar series

Location

Evanston campus

Cost

Start Date

Fall: September
Winter: January
Spring: March

Application Deadline

Fall: August 15
Winter: November 15
Spring: February 15 (part-time domestic students only)
International students: Deadlines for international students are three months earlier in order to accommodate the processing of I-20 forms and issuance of a visa.
Why Northwestern University?
Whereas many MS programs focus on the technical aspects of civil and architectural engineering design and construction, the MPM program encourages students to build on their technical backgrounds by emphasizing the practical business and management perspectives needed to effectively synthesize these operations. Graduates of the MPM program are well equipped to take a more high level view of a project and plan, coordinate, control, and evaluate the activities of diverse specialists within a project framework.
Student Profile
The MPM program requires the equivalent of a least one year of work experience for admission, but most applicants have two or more years of working experience. The ideal background for entry into the MPM program is a basic degree in engineering (most desirably civil, mechanical, or electrical) or architecture with a few years of work experience. However, our program is flexible and can usually accommodate individuals who do not strictly satisfy the foregoing requirements, but have a quantitatively oriented basic degree, several years of work experience, and a good idea of what they hope to obtain from the program.
Meet our current students
Learn more about our alumni
Career Opportunities
Graduates of the MPM program are prepared to enter the work force in a wide variety of areas. In addition to the areas represented by the five specializations in the program, graduates have utilized their education to work in many different peripheral industries and to develop their own companies. More than two decades of experience has shown that companies value the skills of our MPM graduates and their ability to become productive employees, and leaders.