Honors and Awards
Faculty Startup Wins 2022 Equalize Pitch Competition
Danielle Tullman-Ercek's startup is making it easier to produce proteins, speeding time to market
Opera Bioscience, a biotechnology startup cofounded by Northwestern Engineering's Danielle Tullman-Ercek, has won the 2022 Equalize Pitch Competition.
Presented by the Office of Technology Management at Washington University in St. Louis, Equalize is a virtual mentor program and pitch competition designed to address the disparity of women academic inventors forming university startups.
Tullman-Ercek, professor of chemical and biological engineering and director of the Master of Science in Biotechnology program at the McCormick School of Engineering, was named the overall winner in the competition's MedTech category. Opera Bioscience is developing a bacterial platform that produces high-purity proteins, reducing the cost of goods for proteins needed to make cultivated meat, biomaterials, and cell therapies.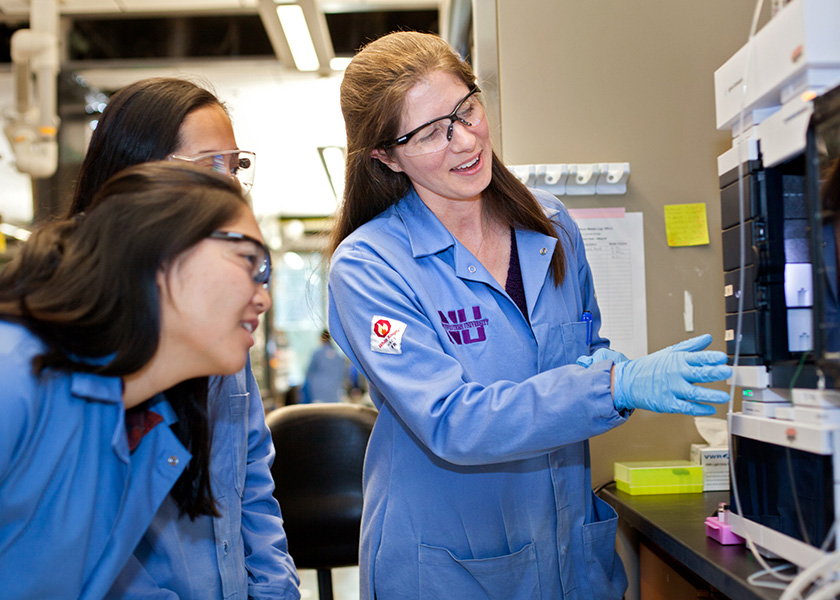 Created in Tullman-Ercek's Laboratory for Engineering Membrane Proteins and Protein Membranes, Opera Bioscience's technology provides a unique protein manufacturing platform that delivers the benefits of microbial production but also makes proteins at the highest purity levels previously inaccessible with bacterial hosts. The startup's technology transforms decades-old tools for protein manufacturing — eliminating most of the expensive downstream processing steps by fully secreting proteins of interest. In addition to making proteins at high purity levels, the company can pair the protein production platform with high-efficiency manufacturing techniques like continuous fermentation. Combined, the platform offers an ideal option for producing cost-prohibitive proteins, enzymes, and growth factors used in cellular agriculture or therapeutics at significantly reduced costs.
Opera Bioscience's other cofounders include CEO Gerry Sapienza (Kellogg '21) and CSO Julie Ming Liang, a PhD candidate in Northwestern Engineering and the Weinberg College of Arts and Sciences' Interdisciplinary Biological Sciences graduate program.
Tullman-Ercek noted the importance of mentorship in helping launch her startup. As part of the Equalize competition, she worked with AstraZeneca's Dominic McDonald and Natalie Tigue, as well as the University of Chicago's Brian Coe through the National Science Foundation's Innovation Corps. She also received support from Northwestern's Innovation and New Ventures Office.
"My cofounders and I put a lot of effort into developing Opera's direction over the past year," Tullman-Ercek said. "Collectively, these mentors helped me and the company transform the technology from an idea into a compelling business plan and pitch. This award is the exclamation point on that story."
Opera Bioscience builds on Tullman-Ercek's research on controlling the movement of materials across biological membranes, with the goal of enabling and enhancing the production of pharmaceuticals, biofuels, and materials in microbes. Her lab's efforts to manipulate the transport of electrons, small molecules, and signals across cellular boundaries is a vital component of most synthetic biology applications, and her team is developing the tools and methods to engineer membrane proteins and other protein superstructures to meet this challenge.
Tullman-Ercek and her team will further develop Opera Bioscience in Northwestern's Querrey InQbation Lab, the University's new multimillion-dollar technology accelerator designed to foster faculty entrepreneurship and commercialize scientific discoveries. The startup was selected for the BioTools Innovator 2022 Accelerator, which provides in-depth, customized mentorship and support from senior industry leaders and funding opportunities for life science startups working to improve human health.