Events
Two McCormick Professors to Speak at TEDxChicago
Michael Jewett and Manijeh Razeghi will present at the Sept. 10 event
Northwestern Engineering professors Michael Jewett and Manijeh Razeghi are two of three University faculty members who will present at this year's TEDxChicago, an independently organized TED event that promotes "ideas worth spreading." 
Organized around the theme "Showtime: Chi-Time," the event will take place Saturday, Sept. 10, at the Harris Theater for Music and Dance, 205 E. Randolph St. in Chicago. Tickets are on sale at tedxchicago.com. A second and third round of tickets will be released at 10 a.m. on Thursday, June 23, and Thursday, July 7.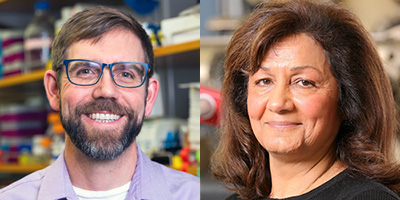 A synthetic biologist, Jewett will discuss freeze-dried cell-free biotechnology, which has potential to revolutionize medicine, diagnostics, and science education.
Jewett is the Charles Deering McCormick Professor of Teaching Excellence and the Walter P. Murphy Professor of Chemical and Biological Engineering at the McCormick School of Engineering. He also directs Northwestern's Center for Synthetic Biology. Jewett's research focuses on advancing synthetic biology research in support of planet health and societal health. Through this work, he and his laboratory create biotechnologies for decentralized biomanufacturing, portable diagnostics, and educational kits to serve human needs.
An inventor of quantum devices, Razeghi will discuss new technologies to detect and view the world at the quantum level.
Razeghi is the Walter P. Murphy Professor of Electrical and Computer Engineering at McCormick and founding director of Northwestern's Center for Quantum Devices. She is a world-renowned scientist in the field of III-V semiconductor science and technology of quantum materials and devices. Her work has led to major technological advancements, including technologies at the core of the 20th-century fiber telecommunications boom. As a generator of new ideas, Razeghi continues to educate future generations of researchers, advance quantum semiconductor science, and technology and develop new quantum optoelectronic devices, spanning from ultraviolet to terahertz frequencies. These technologies potentially could affect all areas of human life, as well as improve the functionality of our bodies and minds.
A social psychologist, associate professor of psychology in the Weinberg College of Arts and Sciences and of human development and social policy in the School of Education and Social Policy, Mesmin Destin will discuss how appreciating people's backgrounds and identities can affect their success, health and well-being.
Other speakers at this year's TEDxChicago include world hunger ambassador Ertharin Cousin, poker players and self-made billionaires Juliette Hulsizer and Jenny Just, public health expert Suzet M. McKinney, and movement builder Mike Strautmanis.