Honors and Awards
Tobin Marks Elected to the American Philosophical Society
Marks is being recognized in the mathematical and physical sciences class
Northwestern Engineering's Tobin J. Marks was one of two University faculty members elected to the American Philosophical Society in recognition of extraordinary accomplishments in their fields. 
Marks is being recognized in the mathematical and physical sciences class and is among 29 resident members and eight international members elected this year to the prestigious society. Marks is the Vladimir N. Ipatieff Professor of Catalytic Chemistry and Chemical and Biological Engineering.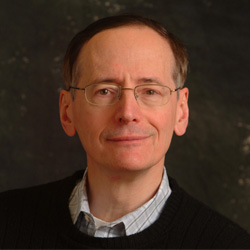 Along with Marks, Natasha Trethewey, Board of Trustees Professor of English at the Weinberg College of Arts and Sciences, was also honored. 
Founded by Benjamin Franklin, the American Philosophical Society strives towards its goal of "promoting useful knowledge" by electing scholars, scientists, and professionals who make great strides in their respective fields. The society has 1,012 living members and has elected only 5,783 members since 1743.
Marks is a world leader in the fields of organometallic chemistry, chemical catalysis, materials science, organic electronics, photovoltaics, and nanotechnology. He has developed processes for numerous types of recyclable, environmentally friendly plastics, efficient organic displays and transistor circuitry, organic solar energy cells, and pharmaceutical building blocks.
Marks designed a co-catalyst that led to what is now a standard process for producing cleaner, greener, and more versatile polyolefins, including polyethylene and polypropylene, on a huge industrial scale. He also has developed catalytic processes for recycling these polyolefins. Marks has pioneered advanced photovoltaic solar cells, composed of flexible, efficient, low-cost organic materials, as well as new materials for sensors and light modulators enabling high-speed optical data transmission and processing. His other achievements include high-performance printed transistors and light-emitting diodes based on organic materials (OLEDs).
Marks has received numerous national and international awards and honors during his career. These include the Harvey Prize in Science and Technology, the Prince of Asturias Prize in Advanced Materials, the Dreyfus Prize in Chemical Sciences, the American Chemical Society Priestley Medal, and the U.S. National Medal of Science. He is a member of the U.S. National Academy of Sciences, the American Academy of Arts and Sciences, the U.S. National Academy of Engineering, the Leopoldina (the German National Academy of Sciences), the Lincei (the Italian National Academy of Sciences), and the U.S. National Academy of Inventors. He is a Foreign Fellow of the European Academy of Sciences. 
Marks has authored more than 1,686 articles in peer-reviewed journals and edited six books. He holds 278 U.S. patents and is the founder of three startup companies: Polyera Inc., Flexterra Inc., and Penguin Chemicals Inc. Furthermore, Marks has mentored over 200 PhD students and nearly as many postdoctoral fellows and visiting scholars, with more than 150 now holding tenure-line academic positions across the globe.