Undergraduate
InfernoGuard, Cofounded by McCormick Student, Wins VentureCat Grand Prize
Kevin Kaspar and his company earned the $150,000 prize for the wildfire detection startup
InfernoGuard, a startup wildfire detection and notification platform cofounded by Northwestern Engineering student Kevin Kaspar, won the $150,000 VentureCat grand prize.
Held May 25 in the Kellogg Global Hub's White Auditorium, VentureCat is an annual University-wide pitch competition and collaborative program supported by the Farley Center for Entrepreneurship and Innovation, Kellogg School of Management, the Donald Pritzker Entrepreneurship Law Center, and The Garage at Northwestern.
Northwestern student-founded ventures compete across five industry tracks for a non-dilutive prize pool of more than $325,000. This year, organizers received more than 50 applications for VentureCat from across Northwestern. Of those, 25 semifinalist startups were selected.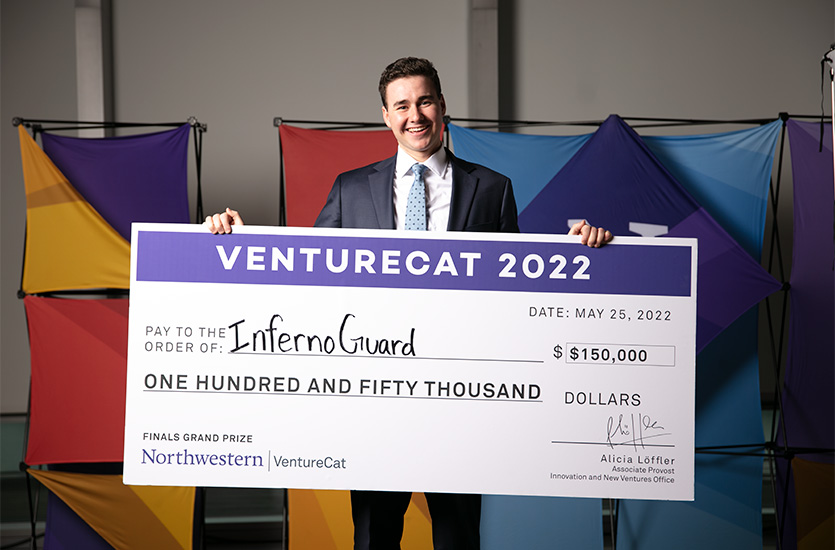 Kaspar, a second-year student majoring in manufacturing and design engineering (MaDE) within the Segal Design Institute and minoring in entrepreneurship within the Farley Center, is InfernoGuard's CEO. Kaspar cofounded the company with Johns Hopkins University student and InfernoGuard chief operating officer Nandita Balaji, and Zoe Sherman of Lehigh University, who serves as chief technology officer and chief financial officer.
During the competition, Kaspar pitched the company's product, which aims to eliminate reliance on word-of-mouth detection by creating a network of devices that continuously gather environmental data to determine and track wildfire presence on an owner's property.
InfernoGuard uses a three-step system to protect from blazes:
Assess risk: InfernoGuard analyzes 11 factors unique to a landowner's property to identify high risk areas. This assessment aids in mitigation efforts and serves as critical identification for product deployment.
Deploy hardware devices: The company's patented hardware technology is placed directly on trees in remote environments. These devices continuously monitor wildfire threats through a unique six-factored sensor analysis algorithm.

 

Stay informed: A mobile platform currently under development will provide users with the ability to monitor all devices and receive instantaneous notification of wildfires on the property.
InfernoGuard wasn't the only startup founded by McCormick students that earned prizes.
Zuri Fertility, a personal and digital fertility app empowering patients with the knowledge, confidence, and access needed to succeed in their fertility journey, earned VentureCat's third-place prize of$25,000. The company also earned the Audience Favorite Prize, and second-place honors in the Life Sciences and Medical Innovations category. Zuri Fertility's team includes Michael Lichtenstein ('21), who cofounded the company in the Farley Center's NUvention: Medical course.
Nspire, which creates novel respiratory devices to improve patient health while decreasing healthcare costs, won the Life Sciences and Medical Innovations category's top prize. The Nspire team includes Jacob Kurian ('21).
Xenah Developers, which provides pre-seed startups with technical expertise and services while offering student developers opportunities to excel in their field, won first place in the Business Products and Services category. That team included Northwestern Engineering's Niraj Shah and William Xenaxis, both junior computer science majors.
In the Consumer Products and Services category, Cue the Curves, a startup founded by junior industrial engineering student Charlotte Oxnam, earned second-place honors. The company's app helps plus-size women find clothing that fits their size and style.
The six judges for the final round were Greg Barnes, partner at Hyde Park Venture Partners; Melanie Kahn, founder and CEO of Poppilu; Bailey Moore, cofounder and managing director of Wintrust Ventures; Christina Rohr, managing director at S2G Ventures; Neal Sales-Griffin, managing director for Techstars Chicago; and Kevin Willer, partner at Chicago Ventures.