Research
Boosting Patient Satisfaction in the Emergency Department
Seyed Iravani shows a path to improving the experience of emergency department patients
Back in 2019, Northwestern Memorial Hospital (NMH) was looking for a boost.  
Specifically, the Chicago-based hospital wanted to heighten patient satisfaction in its emergency department (ED) and tabbed wait times as one area capable of enhancing the patient experience. 
In a series of meetings with the emergency department leadership, Northwestern Engineering's Seyed Iravani, a prominent voice in the field of queuing theory, started working to improve the department's waiting times. Like many businesses, the hospital had limited resources and could not hire more personnel or expand its capacity, two conventional responses to addressing the long wait times that often hamper patient satisfaction scores at the nation's EDs.  
"Without money, we had to factor in behavior," said Iravani, professor of industrial engineering and management sciences.  
Iravani and his collaborators, including Sina Ansari, a former PhD student in his group who is now an assistant professor at DePaul University's Driehaus College of Business; Laurens Debo, professor of business administrations at Dartmouth's Tuck School of Business; and Maria Ibanez, assistant professor of operations at the Kellogg School of Management, turned to the idea of delay announcement, which is well established in other industries. Many prominent airlines, for example, overestimate flight time to manage customer expectations, while major theme parks do the same when communicating wait time for rides.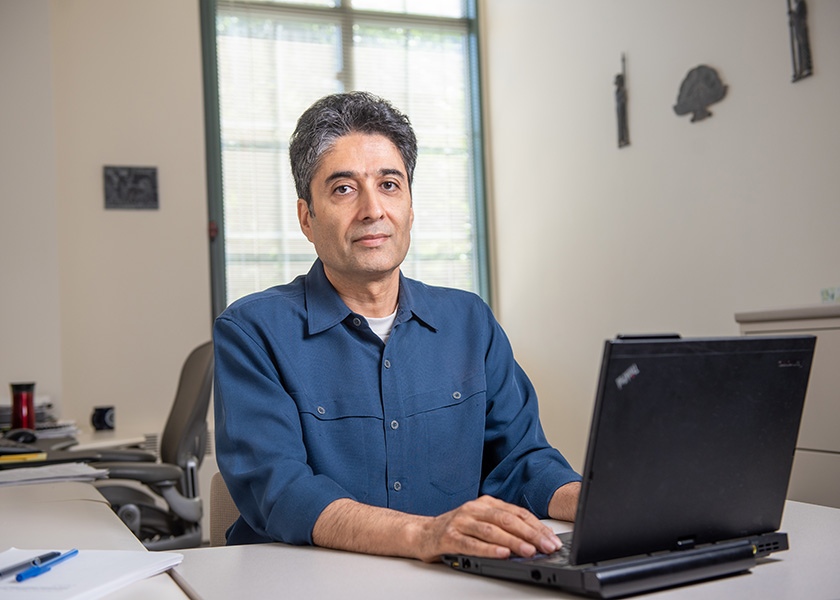 "When you set expectations and exceed those expectations in a favorable way, the customer is happy," Iravani explained. "The idea is to set expectations in a way that you can consistently overachieve." 
Admittedly, Iravani questioned the practice's viability in an emergency department. While people might be thrilled to board a roller coaster in 30 minutes instead of the projected 40 minutes, would they be so forgiving regarding projected delays when having a fractured leg or severe abdominal pain?  
Putting theory to the test 
Using two years of hospital data and predictive analytics factoring in elements such as staffing levels, the severity of cases, and current patient load, Iravani's team produced an institution-specific algorithm predicting wait times for NMH's emergency department visitors. The system has since been implemented as part of the ED's electronic medical record system to improve the communication and satisfaction. 
Over the course of four weeks, Iravani's team then conducted four separate experiments to assess waiting time and patient satisfaction. In the first week, emergency department staff did not communicate a wait time. The following week, staff relayed the algorithm-generated wait time. In weeks three and four, they announced an overestimation of wait time to patients: 20 percent to the algorithm's result in week three and 40 percent in week four. 
The experiment offered clear results: Saying something was better than saying nothing. Self-reported satisfaction scores jumped nearly 20 percent when patients received a wait time, and moderately overestimating the wait time — done during week three — produced the highest patient satisfaction scores.  
"Without spending a dime, we increased patient satisfaction by simply better managing expectations," Iravani said, though he noted hospitals should not overestimate wait time so greatly that patients consider leaving without receiving care. "Being a little high, but not too high, is the key." 
Building upon that work, Iravani's team is now developing mathematical models to explore if emergency departments should provide patients an updated wait-time figure and, if so, when? He hopes to test these models at NMH next year.  
"My hunch is that giving patients one extra message, and doing so in the second half of the initial estimate, will prove beneficial and further increase satisfaction," Iravani said. 
Work with an impact 
After years of producing objective and rational mathematical models to optimize supply chains or manufacturing processes, Iravani savored the opportunity to blend human emotions, experiences, and psychological features with queuing theory. He devoured books and research about behavioral economics and human decision-making and enjoyed spirited conversations with his wife, a behavioral finance professor at DePaul University. 
If people can feel less anxious in the ED and more satisfied with their visit, that's a win for all involved. Seyed IravaniProfessor of Industrial Engineering and Management Sciences
"Making decisions beyond math and incorporating human emotion and expectations was a completely new world for me and incredibly interesting," Iravani said. 
While Iravani recognized he could not boost satisfaction scores through improved bedside manner or quality of care, he embraced wait times as his opportunity to cultivate better experiences for patients and the hospital.  
"If people can feel less anxious in the ED and more satisfied with their visit, that's a win for all involved," he said.