Honors and Awards
Neha Kamat Receives ACS Synthetic Biology Young Investigator Award
Kamat was recognized for her early-career contributions to the field
Northwestern Engineering's Neha Kamat has received the 2022 Synthetic Biology Young Innovator Award from the American Chemical Society. Each year, the award recognizes the contributions of one scientist who has made a major impact on the field of synthetic biology early in their career.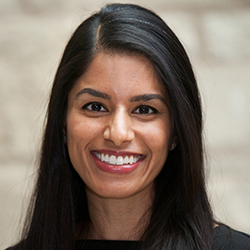 Kamat was honored for her research generating new tools to understand, sense, and regulate cellular behavior, as well as for her passion for mentoring and representation. She will be formally recognized at the Synthetic Biology: Engineering, Evolution, and Design (SEED) conference in Arlington, Virginia, on May 2-5, where she will present her work.
Kamat's research interests are in engineered membranes, artificial cells, and membrane biophysics, and her team bridges techniques from the fields of biomaterials and synthetic biology to design new membrane-based materials. Through her lab, Kamat is discovering how to build cells from the ground up. Her work could help promote new types of bioreactors, biosensors, and therapeutic delivery vehicles that rely on genetic programming to respond to environmental signals and biomarkers and synthesize RNA and proteins in response.
A member of the Center for Synthetic Biology, Kamat recently co-led a study to design "decoy" nanoparticles capable of attracting and binding viruses — including the parent SARS-CoV-2 virus and five variants — rendering them inactive. The work could support the future use of decoy nanoparticle infusions to treat patients with severe or prolonged viral infections.