Honors and Awards
John Rogers Receives Prestigious Washington Award
The award is conferred annually upon an engineer whose attainments have promoted the well-being of humanity
Northwestern Engineering's John Rogers has received the prestigious 2022 Washington Award from the Western Society of Engineers and the Washington Award Commission. The award is conferred annually upon an engineer whose professional attainments have pre-eminently promoted the happiness, comfort, and well-being of humanity.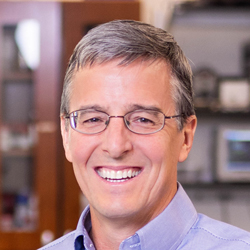 Rogers, Louis Simpson and Kimberly Querrey Professor of Materials Science and Engineering, Biomedical Engineering, and Neurological Surgery, is honored "for his pioneering work in technology development which focuses the concern for humanity, through platforms that address key medical challenges, in designs that facilitate use across all global communities."
A bioelectronics pioneer, Rogers joins an elite list of Washington Award winners that includes Herbert Hoover (1919), Orville Wright (1927), Henry Ford (1944), Neil Armstrong (1980), Gene Cernan (2003), and William Nye (2014).
A prolific inventor and entrepreneur, Rogers has developed a suite of "biocompatible" electronic, optoelectronic, and microfluidic technologies that bend, flex, and stretch with the human body.
Among his innovations is the first-ever transient pacemaker — a wireless, battery-free, fully implantable pacing device that disappears after it's no longer needed; flexible and comfortable wireless sensors for expectant mothers that measure the mother's and baby's vital signs; a skin-mounted sticker that routes sweat in to microfluidic channels as an accurate, easy-to-read diagnosis of cystic fibrosis within minutes; and a wearable device and corresponding a set of data algorithms specifically tailored to catch early signs and symptoms associated with COVID-19 and to monitor patients as the illness progresses.
Rogers has also developed a Band-aid-sized flexible implant that non-invasively monitors brain shunt performance and prevents unnecessary surgeries and CT scans for patients with hydrocephalus. Another example is a thin, flexible, skin-like sticker that monitors the vital signs of babies in neonatal intensive care units.
Rogers's innovations also include a winged microchip the size of a grain of sand that could monitor air pollution and airborne disease; and a first-of-its-kind ultraminiature, wireless, battery-free, and fully implantable device that, with a light-based interface to the brain, programmed — and then deprogrammed — mice to socially interact with one another in real time.
Many of these technologies are in advanced stages of commercial translation, including a suite of FDA-approved devices for monitoring maternal, fetal, neonatal, and pediatric health in developed and developing countries alike, including scaled deployments into Ghana, Kenya, Zambia, India, Pakistan, and Mexico through partnerships with the Gates Foundation and the Save the Children organization.
The founding director of the Querrey Simpson Institute for Bioelectronics, Rogers has received numerous awards. They include a MacArthur "Genius" Grant, a Guggenheim Fellowship, the 2021 Order of Lincoln from the State of Illinois, and the Benjamin Franklin Medal. He also is one of a few researchers elected to all three national academies: the National Academy of Science, National Academy of Engineering, and National Academy of Medicine.