Honors and Awards
John Rogers Named Guggenheim Fellow
Rogers one of four Northwestern faculty members to earn prestigious honor in 2021
Northwestern Engineering's John A. Rogers was one of four University faculty members recently named a 2021 Guggenheim Fellow by the John Simon Guggenheim Memorial Foundation.
Rogers is the Louis Simpson and Kimberly Querrey Professor of Materials Science and Engineering, Biomedical Engineering, and Neurological Surgery at the McCormick School of Engineering and at the Northwestern University Feinberg School of Medicine. He also is founding director of the Querrey Simpson Institute for Bioelectronics (QSIB).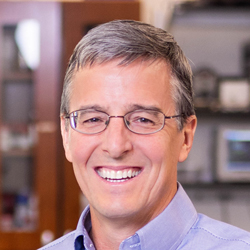 A biointegrated electronics pioneer, Rogers develops electronic devices that can bend, stretch, twist, and sometimes even dissolve harmlessly inside the body. These systems non-invasively integrate with the soft tissues of the human body to provide diverse, clinically relevant diagnostics and therapeutics. His interdisciplinary research combines expertise from nearly every traditional field of study in science and engineering, with outcomes that have changed the way people think about consumer and medical devices.
Rogers will use the fellowship to continue developing wireless, bioresorbable stimulators as bioelectronic medicine.
"This wonderful recognition belongs to a broad, talented collection of students and collaborators over the years — my name just happens to be attached," Rogers said. "At a personal level, this fellowship has deep significance because my mother won a Guggenheim nearly 40 years ago as a poet, for creative writing."
This year, the Foundation awarded 184 artists, writers, scholars, and scientists from across the US and Canada. Selected from a pool of nearly 3,000 applicants, the fellows were appointed on the basis of prior achievement and exceptional promise.
Northwestern faculty members Mesmin Destin, Vicky Kalogera, and Jennifer Lackey were also honored.
Destin is an associate professor of human development and social policy in the School of Education and Social Policy, and of psychology in the Weinberg College of Arts and Sciences. He also is a fellow at Northwestern's Institute for Policy Research. Kalogera is the Daniel I. Linzer Distinguished University Professor of Physics and Astronomy in Weinberg, and director of the Center for Interdisciplinary Exploration and Research in Astrophysics (CIERA). Lackey is the Wayne and Elizabeth Jones Professor of Philosophy at Weinberg and founding director of the Northwestern Prison Education Program (NPEP), an initiative to provide a high-quality, comprehensive liberal arts education to incarcerated students in Illinois.
"I am thrilled to announce this new group of Guggenheim Fellows, especially since this has been a devastating year in so many ways," said Edward Hirsch, president of the Foundation. "A Guggenheim Fellowship has always been meaningful, but this year we know it will be a lifeline for many of the new Fellows at a time of great hardship, a survival tool as well as a creative one. The work supported by the Fellowship will help us understand more deeply what we are enduring individually and collectively, and it is an honor for the Foundation to help them do what they were meant to do."