Honors and Awards
Neha Kamat Receives Prestigious NSF CAREER Award
The award will support research into the development of biosensors that maintain human and ecological health
Northwestern Engineering's Neha Kamat has received a Faculty Early Career Development Program (CAREER) award from the National Science Foundation (NSF), the foundation's most prestigious honor for junior faculty members.
Kamat, assistant professor of biomedical engineering at the McCormick School of Engineering, will receive $700,082 over five years from NSF's Division of Materials Research.
The award supports early career development of individuals who exemplify the role of teacher-scholar through outstanding research, excellent education, and the integration of education and research.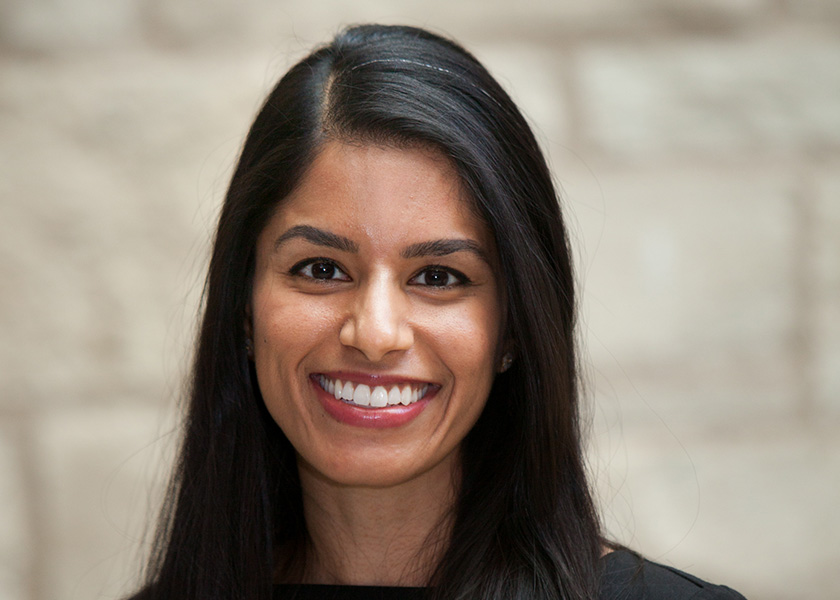 Kamat's research interests are in engineered membranes, artificial cells, membrane biophysics, and her team bridges techniques from the fields of biomaterials and synthetic biology to design new membrane-based materials. Through the Kamat Lab, she is discovering how to build cells from the ground up. Her work could help promote new types of bioreactors, biosensors, and therapeutic delivery vehicles that rely on genetic programming to respond to environmental signals and biomarkers and synthesize RNA and proteins in response.
A member of the Center for Synthetic Biology, Kamat led a study to increase the folding efficiency and yield of membrane proteins, which are important processes in biomanufacturing and play a role in protein misfolding diseases, such as Alzheimer's and cystic fibrosis. In this work, Kamat and her team found that using synthetic, non-natural polymers to assemble artificial cell membranes had unexpected and beneficial effects on the activity of nearby biological components, including protein synthesis machinery.
With her CAREER award, titled "Hybrid Membranes as Platforms for Biomolecule Detection, Synthesis, and Transport," Kamat will build on her previous research and design particles that incorporate stabilizing molecules alongside membrane proteins and protein synthesis systems. The project will map how the unique mechanical and physical properties of the particles designed impact the sensing capabilities and bioreactivity. The work will contribute to a biosensing platform that could generate improved sensitivity of biological detection and enhanced stability of cell-free systems, overcoming previous obstacles to their deployment as autonomous systems.
"As agriculture and manufacturing expand globally and world-wide health crises continue to arise, the development of biosensors that allow improved molecular detection in a variety of settings and the ability to respond in a programmable manner are critical for our ability to maintain human and ecological health," Kamat said. "This work will assemble new membrane-based materials to enable researchers and clinicians to detect biological molecules in an array of water-containing environments, from vasculature to ground water, as well as respond through the production or release of proteins, RNA, or other small molecules. Ultimately, our vision is to design materials that allow for the early detection of infection and disease to microbial content."
Kamat will also develop an accompanying educational program in partnership with teachers from Chicago Public Schools (CPS). The program will provide community engagement training and pedagogical skills for STEM graduate students, as well as teacher-leader training and professional network building for public school elementary and middle grade teachers.