Honors and Awards
Ryan Truby Receives Air Force Young Investigator Research Program Award
Truby is one of 36 chosen from over 175 applicants to receive the 2022 award
Ryan Truby, assistant professor of materials science and engineering and mechanical engineering at Northwestern Engineering, received a 2022 Young Investigator Research Program (YIP) award from the Air Force Office of Scientific Research (AFOSR).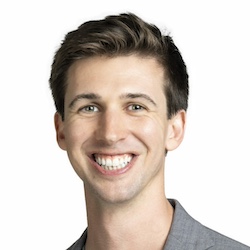 Truby, whose Robotic Matter Lab at Northwestern designs material systems – or robotic materials – that provide robots unprecedented capabilities via novel material forms and functions, is one of 36 scientists and engineers to receive a YIP award. AFOSR received over 175 proposals for the program, which aims to foster creative basic research in science and engineering, enhance early career development of outstanding young investigators, and increase opportunities for young investigators to recognize the Air Force mission and the related challenges in science and engineering.
A core member of the Center for Robotics and Biosystems, Truby will receive a three-year grant totaling $450,000. He submitted his proposal, "Robotic Architected Materials with Distributed Sensorimotor Capabilities via Free-form Electrochemical Composites," which is at the intersection of multifunctional materials, mechanics, manufacturing, and robotics.
"I'm honored and incredibly grateful to the Air Force Office of Scientific Research for this recognition and support of our lab's research efforts," Truby said. "This award will support our efforts to 3D print more energy-efficient, electrically driven actuators for adaptable structures used in aerospace and robotic applications."