Honors and Awards
Erica Hartmann Receives NSF CAREER Award
She will receive $500,000 over five years to study indoor microbe-chemical interactions
Northwestern Engineering's Erica Hartmann has received a Faculty Early Career Development Program (CAREER) award from the National Science Foundation (NSF), the foundation's most prestigious honor for junior faculty members.
Hartmann, assistant professor of civil and environmental engineering at the McCormick School of Engineering, will receive $500,000 over five years from NSF's Division of Chemical, Bioengineering, Environmental, and Transport Systems.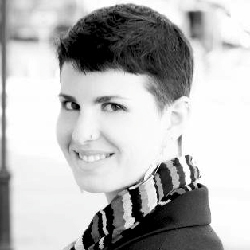 The award supports early career development of individuals who exemplify the role of teacher-scholar through outstanding research, excellent education, and the integration of education and research.
Hartmann's research interests are in understanding how microbial communities respond to anthropogenic chemicals at the molecular level and use that information to control the spread of undesirable traits, like antibiotic resistance. Her lab uses culture-based microbiological techniques, as well as culture-independent molecular methods like genomic and transcriptomic sequencing, to study chemically induced effects on the indoor microbiome.
Her past work includes analyzing microbes within a variety of environments and surfaces, including toothbrushes, indoor dust, antimicrobial paints, and the International Space Station.
With her CAREER award, titled "Redefining 'Antimicrobial' in the Context of Microbe-chemical Interactions Indoors," Hartmann will investigate the impacts of antimicrobial chemicals on indoor microbes to understand how chemicals and indoor microbes interact, particularly in textiles. She will study where microbe-chemical encounters happen and what happens to the microbes that survive these encounters. as well as evaluating their impacts on microbial ecology and antibiotic resistance in buildings.
Hartmann will integrate her lab work with an outreach project to engage design professionals and the public about the relationship between building materials, chemicals, and the indoor microbiome. She will collaborate with architects and designers to develop interdisciplinary workshops, curriculum, and continuing education to advance understanding of how antimicrobial chemicals migrate out of building materials and shape the viability and antibiotic resistance of indoor bacterial communities.
"My hope is to make sure that we have good antimicrobial chemicals for when we need them," Hartmann said. "This award will enable me to examine the potential role of antimicrobial products in the spread of antimicrobial resistance. It will also allow me to create resources for designers and consumers, so that people who might buy these products can make more informed choices."