Honors and Awards
Janice Mejia Selected for Outstanding Advising Award
Mejia was recognized for excellence in teaching and providing academic advising services to students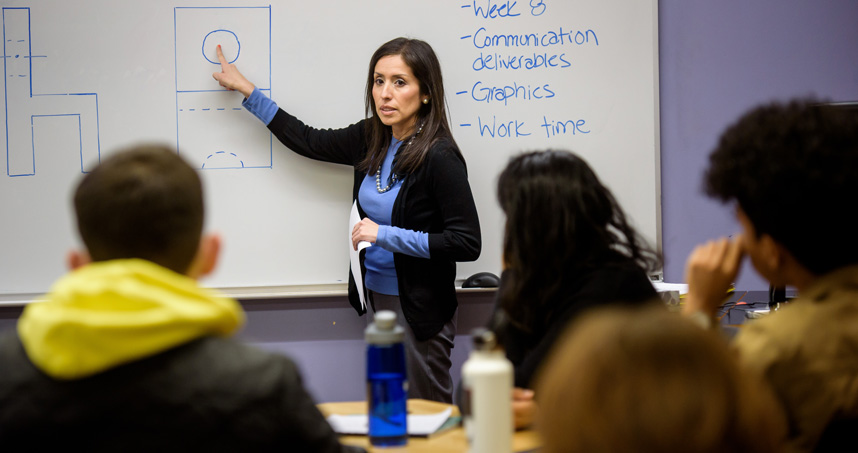 Northwestern Engineering's Janice Mejia has received the Region 5 Excellence in Advising - Faculty Award from the National Academic Advising Association (NACADA).
The award honors Mejia, associate professor of instruction and undergraduate adviser within at the McCormick School of Engineering, for her demonstrated teaching abilities and providing academic advising services to students.
Mejia is a core faculty member in the Design Thinking and Communication program, a two-course sequence for first-year students that embeds communication instruction in the context of design, and challenges students to work immediately on design problems submitted by individuals, non-profits, entrepreneurs, and industry members. Her research interests focus on engineering education, mathematics education, and engineering design education.
Mejia's past honors include receiving the 2017 Cole-Higgins Award for Excellence in Advising, and being named to Northwestern's Associated Student Government (ASG) Faculty Honor Roll for Excellence in Teaching in 2014 and 2016.
With more than 14,000 members, NACADA promotes quality academic advising and professional development of its members to enhance the educational development of students. It acts as the representative and advocate of academic advising to higher education, providing a network and professional identity for the thousands of faculty, full-time advisers, and administrators whose responsibilities include academic advising.
The award will be presented during the NACADA Virtual Region 3 & Region 5 Conference, slated for April 7-8, 2021.