Announcements
Vijay Vaitheeswaran Joins Farley Center as Visiting Fellow
US business editor for The Economist and an expert on innovation to contribute to classes and programming
Vijay Vaitheeswaran, US business editor for The Economist, has joined Northwestern Engineering's Farley Center for Entrepreneurship and Innovation as a visiting fellow for the 2020-21 academic year.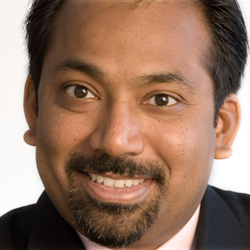 In his role, Vaitheeswaran will participate in Farley Center courses and special programming. In NUvention: Energy, part of the Farley Center's flagship suite of entrepreneurship courses, he will help student teams develop pitches for their own energy startups. He also will host events open to the Northwestern community, such as a discussion on a to-be-determined topic.
"Vijay is a true expert in innovation, as well as an engaging interviewer and storyteller," said Hayes Ferguson, director of the Farley Center. "We look forward to him sharing his valuable perspectives as he works with Farley faculty and students and our Northwestern collaborators."
Vaitheeswaran has written on a range of topics related to business and innovation since joining The Economist in 1992, with a particular emphasis on the politics, economics, and technology of energy and the environment, as well as global health, pharmaceuticals, and biotechnology. He opened The Economist's Shanghai bureau in 2012 and served as China business editor and bureau chief until 2017, when he became US business editor. He also chairs The Economist Innovation Summit, a series of global conferences on innovation.
"The Farley Center has demonstrated strong leadership in student innovation and entrepreneurship," Vaitheeswaran said. "I'm excited to share my experiences with their community and to collaborate on a variety of initiatives."
An author of critically-acclaimed books on energy and transportation, Vaitheeswaran most recently wrote Need, Speed and Greed: How the New Rules of Innovation Can Transform Businesses, Propel Nations to Greatness, and Tame the World's Most Wicked Problems (Harper Business, 2012), which forecasts a global innovation revolution and teaches readers the necessary skills to become innovators.
An adviser on sustainability and innovation to the World Economic Forum at Davos, Vaitheeswaran has been featured on NPR and the BBC, and in The Wall Street Journal and The New York Times. He has spoken to the US National Governors' Association and the United Nations General Assembly and is a lifetime member of the Council on Foreign Relations. He graduated from MIT with a degree in mechanical engineering.