Announcements
Kimberly Gray Named Inaugural Pepper Family Chair
Gift from Roxelyn and Richard Pepper created a newly endowed chair for civil and environmental engineering
A gift from Roxelyn (Roxy) '53 and Richard Pepper '53 has endowed the chair position within Northwestern Engineering's Department of Civil and Environmental Engineering.

Kimberly Gray is the inaugural Roxelyn and Richard Pepper Family Chair in Civil and Environmental Engineering, a rotating professorship held by the department chair.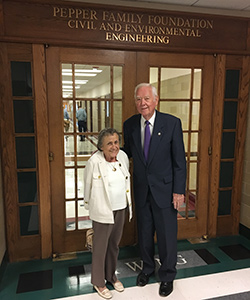 The Peppers, who met and married as undergraduate students, have been longtime volunteers and benefactors of Northwestern University. Roxy Pepper, daughter of former University President J. Roscoe Miller '30 MD, earned a degree in communication sciences and disorders from Northwestern in 1953. She served as a member of the University's Board of Trustees from 1985 to 1989. Richard Pepper, former chairman of Chicago-based The Pepper Companies, also graduated from Northwestern in 1953, receiving a bachelor's degree in civil engineering. In 2001, the Peppers jointly received Northwestern's Alumni Medal, the highest honor awarded to University alumni.

"The University has been an important part of our lives, and we believe in setting up the next generation for success," Roxy Pepper said. "Endowing a chair in Northwestern Engineering allows us reach that goal."

"Our family will be associated for decades to come with Northwestern's mission to develop whole-brain engineers who will solve urgent problems surrounding our built and natural environments," Richard Pepper said. "We are excited for what the future holds for this chair and for Northwestern Engineering." 
The Barrington, Illinois, based couple's other gifts to the University include support for Northwestern's baseball stadium, Rocky and Berenice Miller Park, and for the Roxelyn and Richard Pepper Department of Communications Sciences and Disorders.

"Roxy and Richard's generosity comes at a critical time, as the importance of civil and environmental engineering becomes increasingly clear," said Julio M. Ottino, dean of the McCormick School of Engineering. "Kimberly is the perfect inaugural recipient for this well-deserved honor."

Gray, professor of civil and environmental engineering and (by courtesy) chemical and biological engineering at Northwestern Engineering, is an expert in environmental chemistry and physicochemical processes in natural and engineered environmental systems, with particular focus on energy and urban sustainability applications. Serving as chair of the department since 2015, Gray studies the synthesis, characterization, and performance of photo-active materials. Her lab also investigates chemical fate in natural systems and develops technologies for the protection of environmental and human health.

She is the author of over 130 scientific papers and lectures widely on energy, climate, and environmental issues. Gray also works closely with the Chicago Legal Clinic to provide technical expertise to solve environmental problems for low-income urban communities.

"Being named the first Roxelyn and Richard Pepper Family Chair carries great meaning," Gray said. "The Peppers' support for civil and environmental engineering provides many opportunities for our students and will inspire students and faculty to address crucial challenges for our society."

The Roxelyn and Richard Pepper Family Chair in Civil and Environmental Engineering was supported in part by alumni Patrick G. '59, '09 H and Shirley W. Ryan '61, '19 H ('97, '00 P) through the Ryan Family Chair Challenge, which matches gifts made by other Northwestern supporters to establish new endowed professorships, or chairs, across a wide range of disciplines. These gifts count toward We Will. The Campaign for Northwestern.

The funds raised through the "We Will" Campaign are helping realize the transformational vision set forth in Northwestern's strategic plan and solidifying the University's position among the world's leading research universities. More information on We Will. The Campaign for Northwestern is available at wewill.northwestern.edu.