Announcements
Hayes Ferguson Named Director of Farley Center
She brings more than three decades of experience in entrepreneurship, higher education, and media
Hayes Ferguson was named director of Northwestern Engineering's Farley Center for Entrepreneurship and Innovation, Dean Julio M. Ottino announced on June 4. Her appointment is effective August 1, 2020.
Ferguson, currently associate director of The Garage at Northwestern, is an accomplished leader with more than three decades of experience in entrepreneurship, higher education, and media. She will lead the Farley Center, dedicated to fostering students' entrepreneurial skills and abilities through a unique interdisciplinary curriculum with faculty from an array of disciplines.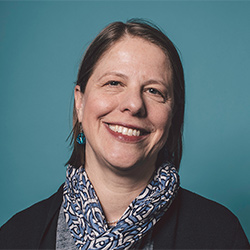 "Hayes brings curiosity, collaboration, and an innovative spirit to all she does — vital qualities for a leader at Farley," Ottino said. "Her passion for education and entrepreneurship naturally aligns with our philosophy of whole-brain thinking and she will foster new opportunities for our students. I am delighted she has accepted the position. As a central part of the Northwestern innovation and entrepreneurship ecosystem, the Farley Center plays a critical role in preparing students with the thinking skills that will help them throughout their careers."
Through the Farley Center, founded within the McCormick School of Engineering in 2008, students take courses that allow them to experience the entire entrepreneurial life cycle — from ideation to prototyping and business plan development. Students learn to identify and address new challenges and opportunities, key to succeeding in an ever-changing world. Its signature program, NUvention, connects students from across schools at Northwestern to develop and pitch new business ideas.
"I am honored to lead the Farley Center," Ferguson said. "As director, I aim to develop the already-impressive array of educational opportunities for students as they move forward in their entrepreneurial journey."
At The Garage, a cross-disciplinary community as well as physical space that brings together students, faculty, and staff who share an entrepreneurial drive, Hayes has managed student programs and resources, including Propel, dedicated to promoting diversity in entrepreneurship, and Wildfire, the University's summer pre-accelerator. She coadvises EPIC, Northwestern's student-led entrepreneurship organization that includes Launch, a quarter-long incubator, and Sprout, an immersive learning experience in Silicon Valley.
Before joining the staff full time in 2018, Hayes was an entrepreneur in residence at The Garage, mentoring myriad student startup teams. She also has mentored entrepreneurs at Chicago innovation incubators 1871 and Matter, and she has been a judge at numerous startup competitions.
A founding member of the management team at online memorial company Legacy.com, Hayes served as chief operating officer and chief content officer, building a network of websites for 1,500 media companies around the world, and making the Legacy domain among the top 50 most visited in the United States. After helping to lead the company to an acquisition by a private equity firm, Hayes held leadership and advisory roles at multiple startups.
Earlier in her career, she taught journalism at Northwestern's Medill School of Journalism, Media, Integrated Marketing Communications after more than a decade as a newspaper foreign correspondent, magazine writer, and radio host.
A native of New Orleans, Hayes has a BA from Vanderbilt University and did graduate work as a Rotary Scholar at the University of Perugia in Italy and as a Knight-Wallace Fellow at the University of Michigan at Ann Arbor.