Honors and Awards
Marita Labedz Poll Selected for Outstanding Advising Award
Poll honored for "having a sustained institutional impact on students"
Northwestern Engineering senior academic adviser Marita Labedz Poll will receive the Outstanding Advising Award - Primary Advising Role from the National Academic Advising Association (NACADA).
The award honors Poll, who is responsible for advising 100 undergraduate students in the Department of Industrial Engineering and Management Sciences, for her demonstrated abilities and for showing "consistent evidence of the qualities associated with the outstanding advising of students such as having a sustained institutional impact on students."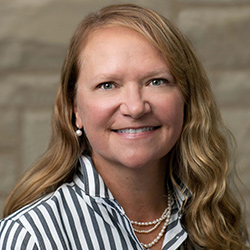 Poll's work in IEMS includes the establishment of advising learning outcomes, an advising website, and the development of mentoring circles. Every undergraduate is part of a mentoring circle that includes a faculty mentor, alumni mentor and peer mentor. Additionally, Poll developed a mental health ally program in the McCormick School of Engineering, which seeks to educate faculty and staff to serve as allies for students experiencing mental health challenges.
Poll's research interests include higher education policy efficacy, diversity and inclusion, leadership, and student engagement. She teaches IEMS 395: Whole-Brain Leadership, where students draw upon previous work and leadership experience to identify their own thinking and leading preferences and those of team members.
She is involved with the American Educational Research Association, the Association for the Study of Higher Education, and the National Association of Student Personnel Administrators.
With more than 14,000 members, NACADA promotes quality academic advising and professional development of its members to enhance the educational development of students. It acts as the representative and advocate of academic advising to higher education, providing a network and professional identity for the thousands of faculty, full-time advisers, and administrators whose responsibilities include academic advising.
The award will be presented during the NACADA Annual Conference, slated for October 4-7 in San Juan, Puerto Rico.