Undergraduate
City Health Tech Among Country's Top Student Startups
Founded by senior Ibraheem Alinur, City Health Tech was named one of the top 25 student startups across the country as part of the Liftoff List
City Health Tech, started by Northwestern Engineering senior Ibraheem Alinur, was chosen by Liftoff List  as one of the top 25 student startups across the country out of more than 225 student-run companies' applications from 68 universities.
Alinur and his company produce Opal, a wireless, waterproof device that encourages people to wash their hands properly.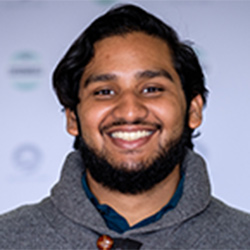 With colorful on-screen prompts, Opal coaches people through the proper handwashing steps, then thanks them for their efforts, while collecting data about handwashing. The 3D-printed device itself was built using prototyping facilities at The Garage, Northwestern's incubator for student-run businesses.
After three years of research and prototyping, 18 Northwestern students — 10 from the McCormick School of Engineering — are on the team at City Health Tech. The team is supported by the lab of Erica Hartmann, assistant professor of civil and environmental engineering, and Heather Aranyi, adjunct lecturer at the Farley Center for Entrepreneurship and Innovation.
The Liftoff List was founded by twin venture capitalists Justine and Olivia Moore who work at 50-year-old firm CRV, which backs the Liftoff List.