Events
Chicago-area Girls Participate in Hands-on Engineering at 49th Annual Career Day for Girls
More than 130 Chicago-area middle school and high school girls visited campus on February 29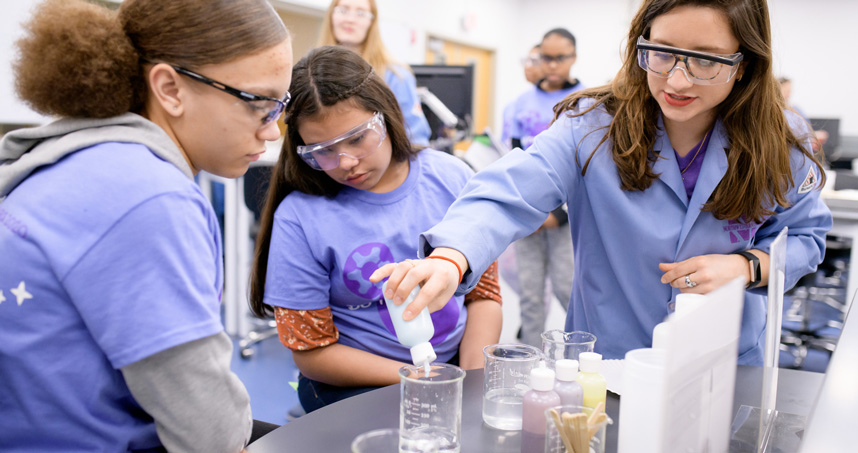 On Saturday, February 29, 139 Chicago-area middle school and high school girls took park in hands-on experiments and toured Evanston campus laboratories during Northwestern University's 49th annual Career Day for Girls.
The career and educational workshop, held each year as part of National Engineer's Week, encourages young women to consider engineering in their education and career choices. "Do the impossible." was the theme for this year's workshop, sponsored by Northwestern Engineering's chapter of the Society of Women Engineers.
The event included laboratory tours, with activities ranging from building floating concrete figurines to using virtual reality to learn about human-robot interaction. Graduate students in the lab of Northwestern Engineering's John Rogers, Louis Simpson and Kimberly Querrey Professor of Materials Science and Engineering, Biomedical Engineering and Neurological Surgery, showcased the bioelectronic devices behind innovative wearable technology capable of monitoring health problems like dehydration or cystic fibrosis. Linsey Seitz, assistant professor of chemical and biological engineering, presented her lab's work to develop electrochemical technologies to convert and store renewable electricity to sustainably produce fuels and chemicals.
Other activities included engineering design competition and hands-on experiments.
Students also attended panels about the day-to-day life of professional engineers, and how to navigate the decision-making process of choosing a major at a university. Erica Bourdage, project engineer at Walt Disney Imagineering, gave the keynote speech.
Career Day for Girls has been held annually since 1970 when only 4 percent of Northwestern Engineering students were women. Today, approximately one third of engineering undergraduate students identify as women.