Honors and Awards
Jill Wilson Receives Academic Advising Honor
NACADA award recognizes excellence in academic advising administration
Northwestern Engineering's Jill Wilson has received the Region 5 Excellence in Advising - Advising Administrator award from NACADA: The Global Community for Academic Advising, a leading association for the development of academic advising in higher education.
The award, eligible to higher education academic advising administrators within NACADA's Great Lakes Region, recognizes individuals who provide direct academic advising services to students but whose primary role is to direct an academic advising program.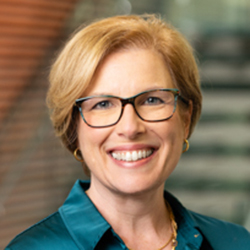 Wilson, professor of instruction and assistant chair in the Department of Industrial Engineering and Management Sciences and Charles Deering McCormick Distinguished Professor of Instruction, will be formally honored during NACADA's spring 2020 Region 5 Conference in Milwaukee, Wisconsin.
Over the last three years, Wilson has helped overhaul the industrial engineering department's advising program to emphasize staff and faculty mentoring for undergraduate students. The system, first introduced during the 2017-18 academic year, encourages students to meet with a staff academic adviser to help make curriculum decisions — such as course selection or a four-year plan — while also meeting with a faculty adviser to discuss in-depth discipline and career-related questions.
As part of the program, Wilson established group advising for new industrial engineering majors, as well as "dIvErsion," a weekly social gathering to promote student and faculty interaction.
Wilson also collaborated with Marita Labedz Poll, senior academic adviser in the industrial engineering department, on the "Mental Health Allies" initiative, which educates Northwestern Engineering faculty and staff on how to best support students experiencing distress or mental health challenges. The program, introduced in fall 2019, is funded by a grant from the Alumnae of Northwestern University.
Wilson's research interests are integer programming and combinatorial optimization and the study of operations research education. In addition to advising, she teaches a number of undergraduate courses, including IEMS 202: Probability, IEMS 313: Foundations of Optimization, and IEMS 394: IE Client Project Challenge. She also teaches MEM 407: Decision Tools for Managers as part of the Master of Engineering Management program.