Events
Graduate Students Celebrate Commencement
The December 14 ceremony featured remarks by David Nichols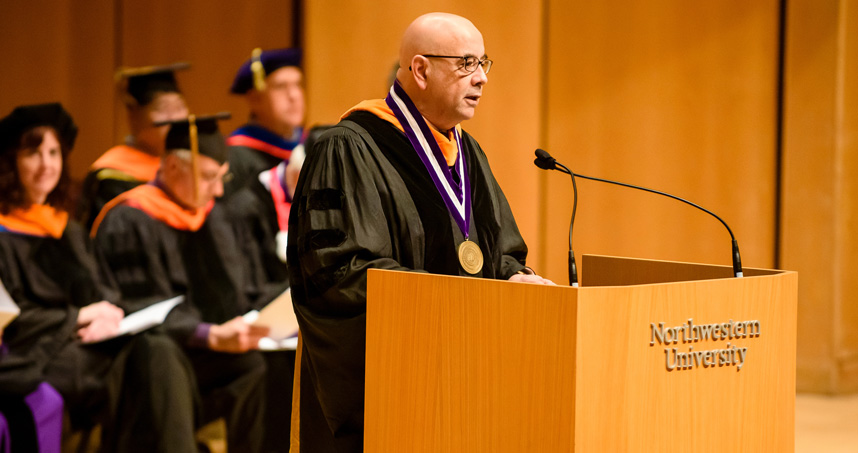 Watch the graduation ceremony video.
Northwestern University's McCormick School of Engineering and Applied Science celebrated the graduation of its accomplished master's and PhD students on Saturday, December 14.
Held in the Pick-Staiger Concert Hall, the commencement recognized 362 master's and 103 PhD candidates.
"As graduate students you not only challenged yourself to learn new things and create new knowledge, but you served as role models and mentors for other graduate students and our undergraduate students," said Northwestern Engineering Dean Julio M. Ottino. "You connected with colleagues across departments and schools, curating your own whole-brain network, and you enriched many of our programs by bringing your unique perspectives."
The ceremony featured remarks by David Nichols ('91, KSM '00), a principal and global client service partner at EY (formerly Ernst and Young). In his role, Nichols maintains global responsibility for managing some of EY's largest client relationships, while also serving as the central region innovation and technology go-to market leader.
Nichols, who graduated from Northwestern Engineering with a degree in computer engineering, noted that the rise of several technological and culture advancements — from autonomous travel to medical breakthroughs to globally connected cultures — has made this year's graduating class well positioned to make a difference in society.
"You have the benefit of great timing," said Nichols, a member of the McCormick Advisory Council. "We don't control timing, but you are part of this transformation. And not only are you part of it, you get to shape it, and you will shape the generations behind you that would normalize the things that seem futuristic today."
Nichols encouraged graduates to lead these societal transformations through responsible and ethical leadership. One way to do that, he said, was by embracing change throughout their careers.
"Change brings the ability to reinvent. You'll have to reinvent yourself probably five or six times during the course of your career," Nichols said. "If you don't, or if you're having trouble doing this, you can guarantee that your skills will become obsolete and your value will become diminished. Most importantly, you will limit yourself. Change shouldn't be looked at as an issue. Change is actually an opportunity."
As the graduates embarked on the next step in their lives, Nichols added, "Your experiences will be unparalleled, and I absolutely know that you will represent yourselves, your families, and this great university with the highest distinction."
Ottino agreed that the graduates are prepared for a lifetime of impact and encouraged them to stay connected to Northwestern.
"Although your careers may take you far from campus, we hope to see and hear from you on a frequent basis," Ottino said. "As alumni, you are the source of our value—we are only as good as the people that we produce. I am eager to see what you will accomplish."