Announcements
Trustees Lou Simpson and Kimberly Querrey Make Additional $10 Million Gift to Northwestern
New Querrey Simpson Institute for Bioelectronics will expand the development of body-integrated electronic systems and enhance research collaborations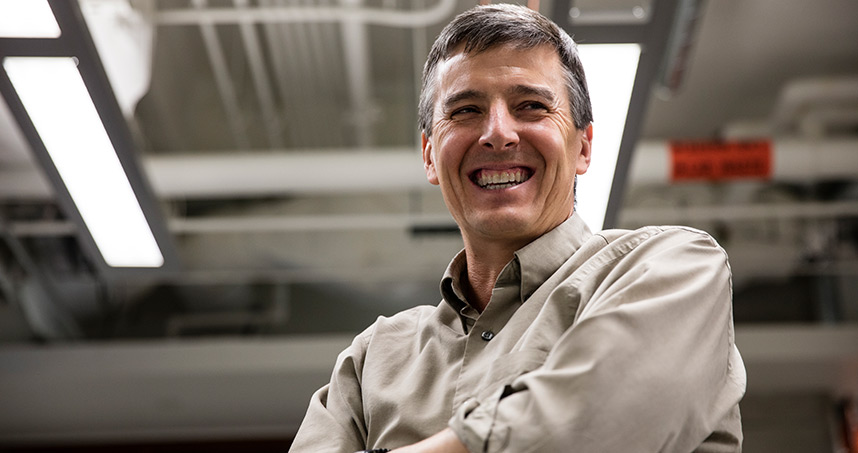 Following the grand opening of the Simpson Querrey Biomedical Research Center on the Chicago campus in June, Northwestern University trustees Louis A. Simpson '58 ('96 P) and Kimberly K. Querrey ('22 P) have made a new $10 million gift to advance Northwestern research. The gift, along with prior support, will create the Kimberly K. Querrey and Louis A. Simpson Institute for Bioelectronics, which will house the University's Center for Bio-Integrated Electronics (CBIE) and catalyze the development of 'biocompatible' electronic, photonic and microfluidic technologies for the human body, across a broad scope of applications, including those in medicine and human health.
Established in 2016 with support from Simpson and Querrey, the CBIE has brought together faculty experts from Northwestern's McCormick School of Engineering and Feinberg School of Medicine. The center emerged as part of the Simpson Querrey Institute, which provided important initial support for research and outreach efforts. Through interdisciplinary collaborations, the center's affiliated faculty and their teams develop electronic systems that integrate seamlessly onto or into the body for functions that range from continuous, clinical-grade measurements of physiological health, to engineered therapies for neuroregeneration, to precision assessments of athletic performance to accurate metrics of rehabilitation and recovery, to sophisticated forms of interfaces between humans and machines.
The CBIE will serve as the "hub" of the Querrey Simpson Institute for Bioelectronics, providing the engineering innovation for multidisciplinary collaborations at the intersections of engineering, science and medicine. A number of other centers representing medical and other areas will serve as the "spokes" of the new institute. This new structure is expected to enable translational science across a broad variety of applications affecting human health and the human condition more generally.
"Kimberly and Lou are deeply committed to addressing important human health issues through cutting-edge research," University President Morton Schapiro said. "Their latest gift will enable us to draw on Northwestern's strengths in engineering and medicine in order to explore technologies that can improve health outcomes and reduce the cost of health care. We are truly grateful for their remarkable generosity and partnership with the University."
The gift, which counts toward We Will. The Campaign for Northwestern, will fund the Querrey Simpson Institute for Bioelectronics' research initiatives, laboratory equipment and expanded lab space within the Technological Institute on the Evanston campus.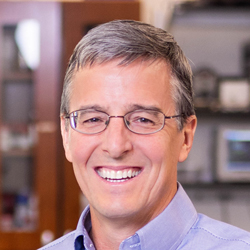 "We are profoundly moved by the confidence that Kimberly and Lou have shown in our ability to do important, collaborative research at the interface between engineering and medicine, and we appreciate their visionary support," said John A. Rogers, the institute's founding director. "This generous investment in the Querrey Simpson Institute for Bioelectronics will greatly accelerate our work toward systems with the potential for far-reaching, beneficial impact on human health, as one of our primary goals. We want to see these technologies move out of the academic laboratory and into the real world, where they can help to address societal grand challenges."
A pioneer in the field of bio-integrated electronic devices, Rogers is internationally renowned for creating electronic systems that can bend, stretch and twist with natural movements of the human body, to enable unique applications in physiological monitoring, advanced therapies, brain-computer interfaces and many others. A major emphasis of his collaborative team is in the development of the foundational engineering science for a diverse portfolio of biosensors, delivery systems and interfaces for use in advanced medical care. Rogers is the Louis Simpson and Kimberly Querrey Professor of Materials Science and Engineering, professor of biomedical engineering in the McCormick School of Engineering and professor of neurological surgery in the Feinberg School of Medicine.
Rogers has published more than 700 papers, is a co-inventor on more than 100 patents and has co-founded several successful technology companies. He has received numerous honors and awards for his work, including the Lemelson-MIT Prize and the MacArthur Fellowship. In October 2019, the National Academy of Medicine announced his election as a member of the prestigious organization, considered one of the highest honors in the fields of health and medicine. Rogers, who was already a member of the National Academy of Sciences and National Academy of Engineering, became one of just 25 people in history elected to all three academies.
As a recent example, a large, interdisciplinary Northwestern team co-led by Rogers developed soft, flexible wireless body sensors that replace the tangle of wire-based sensors that currently monitor premature babies in hospitals' neonatal intensive care units (NICU) and pose a barrier to parent-baby cuddling and bonding, of demonstrated therapeutic value. A study that appeared in the journal Science in March 2019 concluded that not only do the wireless sensors provide data as precise and accurate as those from traditional monitoring systems, but that they yield additional important information on health status. The wireless patches also are gentler on a newborn's fragile skin and allow for more skin-to-skin contact with the parent. This technology is now entering early stages of scaled deployment, starting with devices that are now in Zambia and Kenya for maternal, fetal and neonatal health and will soon be in many other countries in the developing world, funded by the Bill and Melinda Gates Foundation and the Save the Children Foundation.
Another recent breakthrough is in a wireless, Band Aid–like sensor that could transform the way patients manage hydrocephalus and save the U.S. health care system millions of dollars. Developed by scientists at CBIE teamed with clinicians in neurological surgery, the device, known as a wearable shunt monitor, was successfully tested in a Northwestern Medicine clinical study on patients with hydrocephalus. The findings were published in the journal Science Translational Medicine in October 2018. The devices are now part of a pilot study with pediatric patients at Lurie Children's Hospital as a first step toward validating the devices for FDA approval.
"One of just 25 individuals named to all three national academies, John Rogers is a shining example of the caliber of Northwestern's faculty and achievements, and we are thrilled he and his colleagues are doing such revolutionary work at Northwestern," Querrey said. "Lou and I are honored to support brilliant interdisciplinary research that is bringing engineering, science and medicine together to improve health care, particularly in the areas of personalized and digital medicine. We hope the Querrey Simpson Institute for Bioelectronics will spur progress in this path-breaking research."
For more than a decade, Simpson and Querrey have consistently supported Northwestern. Through the "We Will" Campaign, many strategic initiatives have been made possible by their generosity, including the new Louis A. Simpson and Kimberly K. Querrey Biomedical Research Center — a 14-story, 600,000-square-foot building that will significantly expand Northwestern's biomedical research enterprise — and the Simpson Querrey Center for Epigenetics at Feinberg. They also recently made gifts providing unrestricted support to Feinberg, endowing the Pulmonary Student Summer Research Program at Feinberg and supporting the Asset Management Practicum at the Kellogg School of Management.
The couple's contributions through the "We Will" Campaign now total $208.4 million. Simpson and Querrey are also members of NU Loyal, the giving society recognizing consistent annual giving to Northwestern, with 13 consecutive years of giving.
Querrey is a member of the Northwestern Board of Trustees and president of SQ Advisors, LLC, an investment advisory firm. She is chair of Artis Naples, a member of the Council on Foreign Relations and a member of both the board and the executive committee of the Big Shoulders Fund.
Simpson, an alumnus of Northwestern, is also a University trustee. He is chairman of SQ Advisors. He also serves as a director of VeriSign and trustee emeritus for the Urban Institute and the Museum of Science and Industry.
Simpson's son, Ted, is a 1996 graduate of the Kellogg School of Management. Querrey's niece, Melissa, is a medical student at Northwestern University Feinberg School of Medicine.
The funds raised through We Will. The Campaign for Northwestern are helping realize the transformational vision set forth in Northwestern's strategic plan and solidifying the University's position among the world's leading research universities. More information on the "We Will" Campaign is available at wewill.northwestern.edu.