Events
MMM Students Sweep Kellogg Design Challenge
The winning group, A-Team, took home the $12,000 prize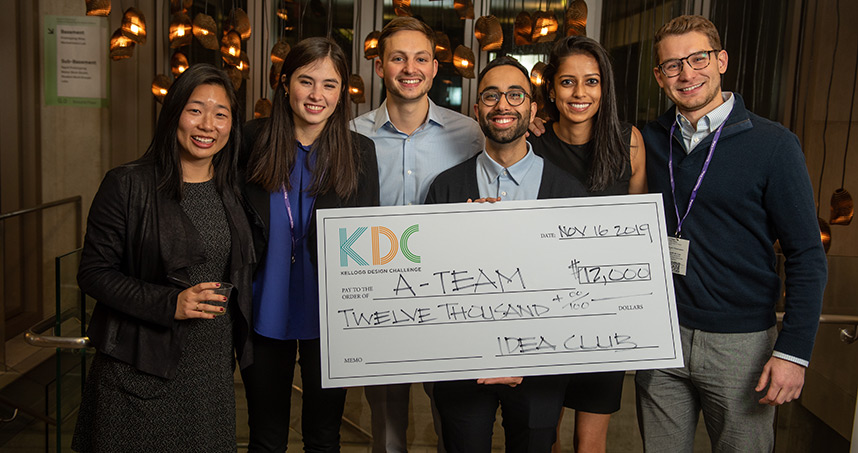 Three teams with students from Northwestern's MMM Program swept the 2019 Kellogg Design Challenge, toppling 25 other teams from 11 universities on November 16.
For the first time ever, students from Northwestern's MMM Program swept all three of the top prizes at the Kellogg Design Challenge, the largest MBA design competition in the country, hosted by the Kellogg School of Management. The MMM program is a unique dual degree offering between the Kellogg School of Management and the Segal Design Institute at the McCormick School of Engineering. MMM educates and inspires business students to innovate at the intersection of human-centered design, business, and technology.
More than 150 students from universities including Harvard Business School, Yale School of Management, and The Wharton School competed in the challenge, cosponsored by the Segal Design Institute. A panel of 27 judges from companies including Amazon, Allstate, Starbucks, and IBM evaluated the students' ideas, based on their vision, user-centered insights, designs and prototypes, strategies and business models, and overall presentations.
The design prompt for this year's challenge came from Amazon. The world's largest online retailer and cloud services provider challenged teams to consider how Amazon Prime Video could be become a destination for movie and TV viewers when they find themselves with free time — such as while waiting in a brief line. With this in mind, the sponsor asked students to frame solutions with global reach, while also considering regional users' needs.
The winning team, A-Team, uncovered and framed unique opportunities through a combination of ethnographic research, opportunity framing, idea generation, prototyping, and business modeling – which enabled the creation of a solution that exceeded the needs of the consumer and the business when interacting with digital content during short three to 10-minute time frames.
"Our team leveraged the valuable skills in MMM, especially those learned in Research-Design-Build, to be user centric and to lead with desirability first when tackling a problem," said Andrew Beir ('15, MMM '21). "Only when we really understood the true behaviors of our customers could we conceptualize solutions." Research Design Build is the foundational design thinking course that all MMM students take as part of the program core. The popular project-based course puts business students through a hands-on learning journey that utilizes a design thinking approach to solve problems meaningfully — ultimately generating original business outcomes that resonate with the user and the business.
The team's research revealed that customers often default to visiting familiar platforms like Instagram, Facebook, and Reddit when they have a few minutes to spare. To encourage Amazon Prime Video users to interact with the platform and discover new content, the team created a platform which had a dynamic playlist feed with fresh and new content, along with sharing capabilities for clips and shows that would easily populate in a Prime Video account. The team also suggested creating public list capabilities where celebrities or critics could share what they're watching.
"We were really able to narrow down why different types of customers would enjoy and find value from these solutions – we even did a little skit, playing potential users and walking through the features, which brought our solutions to life a bit," said Alex Steinwald ('15, MMM '21).
The 2019 competition attracted its largest number of applications from 121 teams representing 17 schools in five different countries. Ultimately, 28 teams, seven from Northwestern and 21 from business schools as far away as Germany, were selected to participate in the event hosted by the Innovation and Design Association (IDEA) Club at Kellogg.
"MMM students are truly hybrid thinkers and doers, who have the ability to understand, frame, and create choices on the front end and scale and optimize on the back end. The combination of human-centered skills and business rigor enable MMMs to be innovators for the 21st century," said Greg Holderfield, director of the Segal Design Institute, codirector of the MMM Program, and Pentair - D. Eugene and Bonnie L. Nugent Clinical Professor of Design Innovation. "To see our students' work recognized by this independent panel of judges was truly spectacular. I could not be prouder of these students and the MMM program."
The 28 teams presented a wide array of solutions to Amazon's challenge from creating three- to five-minute content geared at children to a keyboard extension where people could easily share Prime Video content such as episodes or gifs from a show. Another team aimed to help families decide the next movie to watch by having family members individually create lists of movies they're interested in watching in order to help Prime Video suggest a movie all family members might enjoy.
"It was really cool to see the convergence in ideas around shareability, curation, discoverability, and making a community around Prime," said IDEA co-president Claire Marsh (MMM '20) who helped organize the event. "We were really thrilled to see how well the teams participated, as well as to hear from expert judges who came from lots of different companies."
All 28 teams participated in first-round presentations, then judges picked five finalist teams to present for the entire group. The teams competed for three cash prizes from Amazon: $12,000 for first place, $5,000 for second, and $3,000 for third.
The event also included a keynote address, "Growth Through Design + Business Strategy," from Dan Kraemer, founder and chief design officer for IA Collaborative. Participants attended a fireside chat with Andrew Watts, who leads Amazon's worldwide core product experience, design, and research teams.
Members of the winning teams were:
1st place: A-Team (MMM): Alex Steinwald, Aline Bass Callahan, Andrew Beir, Amit Kalra, Shikha Khinvasara, and Amy Wang
2nd place: Team Primed and Ready (MMM/Kellogg): Nikki Cope, Olaniyi Jinadu, Bri Leon, Colleen Paxton, Jeanette Stock, and Jason Wirth
3rd place: Team Mansio (MMM/Kellogg): Panama Marquand, Matthew Marrapode, Marco Hartmann, Sai Gunturi, Caroline Brown, and Eda Levent