McCormick in the Media
'Epidermal VR' System Featured in CNN, Other Outlets
John Rogers and Yonggang Huang's thin, wireless system adds a sense of touch to any virtual reality experience
Northwestern Engineering's John A. Rogers and Yonggang Huang have developed a new thin, wireless system that adds a sense of touch to any virtual reality experience. Not only does the platform potentially add new dimensions to long-distance relationships and entertainment, the technology also provides prosthetics with sensory feedback and imparts telemedicine with a human touch.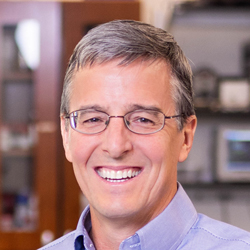 The groundbreaking work has been featured in several news outlets, including CNN.
Rogers and Huang's device incorporates a distributed array of 32 individually programmable, millimeter-scale actuators, each of which generates a discrete sense of touch at a corresponding location on the skin. The patch wirelessly connects to a touchscreen interface on a smartphone or tablet. When a user touches the touchscreen, that pattern of touch transmits to the patch.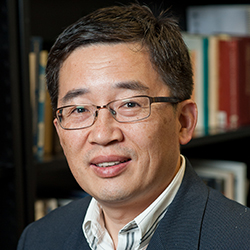 "We leveraged our knowledge in stretchable electronics and wireless power transfer to put together a superior collection of components, including miniaturized actuators, in an advanced architecture designed as a skin-interfaced wearable device — with almost no encumbrances on the user," said Rogers, the Louis Simpson and Kimberly Querrey Professor of Materials Science and Engineering and Biomedical Engineering in the McCormick School of Engineering. "We feel that it's a good starting point that will scale naturally to full-body systems and hundreds or thousands of discrete, programmable actuators."
The findings were published in the journal Nature on November 21. It has since also been profiled in Scientific American, Newsweek, Discover Magazine, New Scientist, IEEE Spectrum, Digital Trends, International Business Times, and many others.