Events
Alumna Heather Stern Discusses Solutions to Close the Gender Gap
The Lippincott executive discussed strategies to support gender equity in brand and design leadership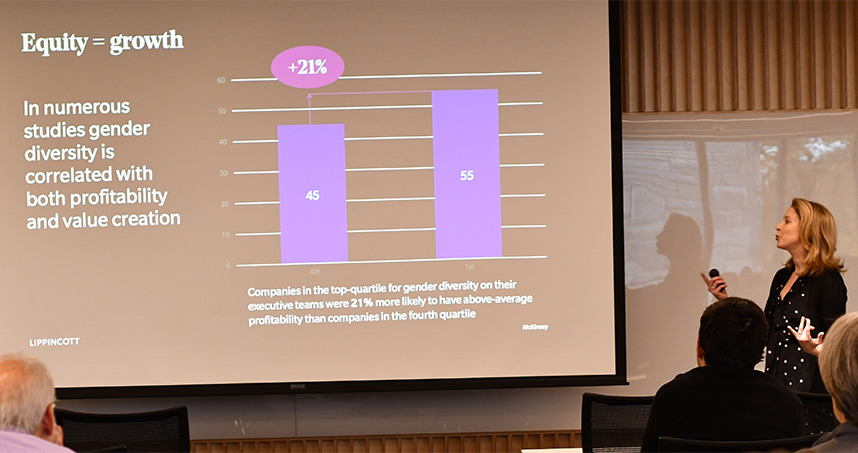 With only 6 percent of leadership positions at Fortune 500 companies held by women — and more men named James in the C-suite of those companies in 2018 than there were women — the gender gap in the workforce can seem more like a chasm.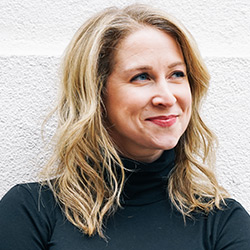 Yet, alumna Heather Stern (WCAS '99), chief marketing officer at brand and innovation firm Lippincott, remains optimistic about finding solutions through advocating for fair policies, supporting leadership opportunities, and combating stereotypes in the workforce.
On October 23, as part of the 2019-20 Dean's Seminar Series, Stern unpacked the history of gender inequity and the meaningful steps business leaders can take to thrive with more diverse workforces during her presentation, "Addressing the Gender Gap in Brand and Design Leadership."
"We have a way to go in how we think about these issues and the policies and procedures we're putting in place to actually make change," Stern said. "This isn't about social good or charity … it's about equity — giving everybody equal opportunity."
Stern discussed the growing role of design across industries today and the shift toward greater focus on human-centered design and user experience in business.
"Design is having this huge red-carpet moment and is thought of as a real strategic lever in businesses," she said. "Today the goal is invention, and that means assessing future possibilities imaginatively and thinking outside of industry norms. This is a space where design has always thrived."
However, despite growing opportunities for designers, where women make up 54 percent of the profession, only about 11 percent of these women are in leadership positions.
"There's a concept called the double bind," Stern said. "When we think of leadership, it's about taking charge, being strong, decisive, and assertive. Yet when women take charge, they are viewed as competent leaders — but disliked. When women take care, they are liked — but viewed as less competent leaders. So we're required to walk this is very very thin line of being assertive, but not too strong. Being nurturing but not too soft. To juggle more than our fair share while walking a tight rope."
To analyze how such statistics regarding gender disparities came to be so commonplace, Stern looked at stereotypes and biases, many of which are unconscious, policies like maternity leave, recruiting practices and pay levels, and leadership trends such as a general practice of men sponsoring more men than women.
"Without women in leadership positions, there won't be women in leadership positions," she said. "We have a lot of catching up to do but the tide is turning."
Stern offered tips for working toward gender equity, such as admitting personal biases (" we all have them"), being deliberate in communication ("stop apologizing"), demanding transparency about advancement opportunities, and not to be detracted by 'gendered' job listing language ("calling all data ninjas").
Most importantly she said, it's about embracing your own kind of leadership.
As chief marketing officer at Lippincott, Stern is a cultivator of industry trends and their impact on brands. She recently spearheaded the firm's award-winning thought leadership campaign, "The Customer of the Future," as well as the original exhibition, "Like Me: Our Bond with Brands," which was featured at the London Design Museum and One World Trade Center in New York City.
Throughout her tenure at Lippincott, Stern has worn a variety of critical hats – from building Lippincott's integrated marketing team from the ground up to leading human resources with a dedication to mentoring employees and creating a working culture attractive to top talent. Today, she serves as a member of the management team, helping guide the firm's strategy and directing business development efforts globally. She takes a consultative approach to identifying clients' key challenges and builds multidisciplinary teams across strategy, design, and innovation to solve them.
A passionate advocate of women's leadership, Stern co-chairs AIGA's Women Lead Initiative and frequently speaks on gender equity and the business imperative for diversity. She is a natural connector, a mom to Jack and Sam, and proud Northwestern alum.