Undergraduate
Women in Computing Members Attend 2019 Grace Hopper Celebration
Sixty Northwestern students attended the four-day conference in Orlando, Florida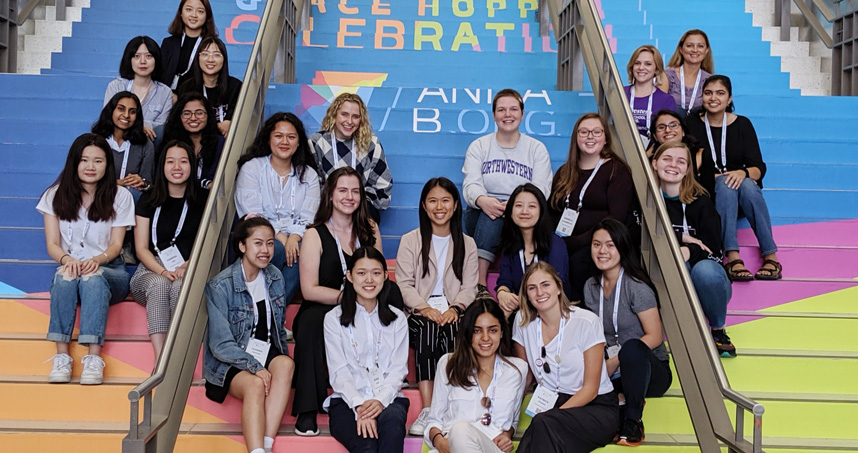 Sixty members of Northwestern University's Women in Computing (WiC) student group traveled to Orlando, Florida to attend the annual Grace Hopper Celebration, the world's largest gathering of women in technology and engineering.
The 2019 conference featured a career fair, workshops, on-the-spot interviews with industry recruiters, celebrations, panel discussions, and keynote speakers. Students participated in the four-day conference from October 1-4, and had the opportunity to network and meet with thousands of women in all stages of their tech careers.
"It's such an amazing opportunity for our girls to see how many women are going through what they're going through," said Anna Deng, a senior studying computer science and WiC's internal president. "Building this community and being present means the world to future generations of women who want to be in tech."
A central theme for the 2019 celebration was to increase women's participation in tech to 50/50 by 2025. Panel discussion topics included gender bias in software, women's health improvement through tech, and data science as a social good. The celebration opened with a keynote speech by Aicha Evans, CEO of Zoox, and Ana Roca Castro, founder and CEO of Genius Plaza, who spoke about the future of artificial intelligence, autonomous vehicles, and inclusion in tech.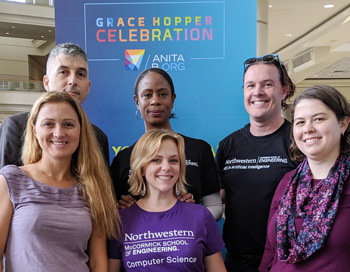 "It was really empowering to see so many powerful women in the same room," said Jue Wu, a fifth year PhD student in learning sciences who is exploring ways to broaden participation of women in tech. "These women were just like us at one point. It was like seeing a role model."
Northwestern Engineering has sent groups of students to the Grace Hopper Celebration since 2015 through the support of donors. The event is produced by the Anita Borg Institute.
This year's students were accompanied by Northwestern Engineering staff and faculty, including Kim Kieras, associate director of the MSAI program, Jason Wilson, Warren postdoctoral fellow, Bryan Pardo, professor of computer science and radio, television, and film, Seda Memik, professor of electrical engineering and computer science, and Brianna Mello, business coordinator.
"All of our girls came out feeling motivated and inspired to propel themselves and other women into their careers," said Deng.