Events
McCormick Seniors Celebrate 161st Commencement
Dean Julio M. Ottino and Yie-Hsin Hung delivered remarks
Northwestern University's McCormick School of Engineering celebrated the graduation of its undergraduate Class of 2019 on June 21 and 22 as part of the University's 161st Commencement.
Graduates from across campus gathered at Ryan Field on Friday morning for the main Commencement exercises, which featured a speech by Lonnie Bunch, secretary of the Smithsonian Institution. Bunch told graduates, "One of the most important lessons I've learned is to think beyond yourself, to realize that as college-educated adults, you should remember to fight the good fight, to remember that there was a greater good that transcends individual gain or personal achievement.
"I would suggest that the burden, that the challenge of the class of 2019 is to find your own good fight, to find ways that you make America better, to realize that your skills, creativity, and educational achievements are crucially needed in this world we live in," Bunch said. Read more about the University Commencement.
At McCormick, undergraduate celebrations continued Saturday morning with the School's Undergraduate Convocation, held at Welsh-Ryan Arena. McCormick Dean Julio M. Ottino told the graduates that they have made a strong impact on Northwestern.
"As a class, you took incredible advantage of the opportunities you had at Northwestern," he said. "You have been creating and designing your experiences from the start. You started new student groups, grew our existing groups, and even revitalized older organizations that have been recognized as being among the very best."
Yie-Hsin Hung ('84), CEO of New York Life Investment Management (NYLIM), served as the convocation's keynote speaker. Hung remarked on the unique experiences that graduates will face as they embark on their careers. Years before being recognized as one of the most powerful women in finance, Hung described herself as a "quiet and shy" mechanical engineering student at Northwestern, with an academic career highlighted by study sessions in Mudd Library, Northwestern football games — and a dry clean laundry delivery service she launched with a classmate.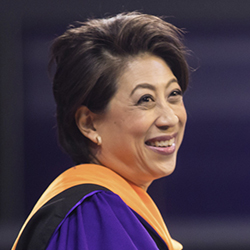 "As a business, it was a complete failure that only managed to put a dent in my GPA," Hung said. "But as an experience, it was an unqualified success, because it made me realize that as a team, we were stronger together, even though we failed."
Hung's brush with business informed her decision to attend Harvard Business School after graduation, where she was challenged to shed her quiet, studious demeanor to succeed in the more interactive classroom environment.
"When I got in, I thought what I would do is what I easily did my whole life, and that was to study hard and get good grades," Hung said. "Very quickly I figured out that I had gone about as far as a number two pencil would take me."
It wasn't long after Hung discovered her confidence in the classroom that she found direction in her career. After graduating from Harvard Business School with her MBA, she turned her attention to the financial services sector, climbing the ladder at companies like Dean Witter Reynolds, Morgan Stanley, and Bridgewater Associates before joining NYLIM as head of alternative investments in 2010. She was named the company's CEO in 2015.
Having overseen a nearly three-fold increase in third party assets under management, Hung credits Northwestern Engineering for equipping her with the skills to become a "first-class problem solver." She believes this year's graduating class is poised with similar potential.
"The day will come when you are so good at your job, you'll be asked to be in charge of other first-class problem solvers," she said. "And the question you'll have to contemplate then is, 'How will you inspire them to come together to solve a really big and important problem?'"
At the ceremony, several students received school-wide recognition awards. Amanda Mirande received the Ovid W. Eshbach Award; Ryan Albeda received the McCormick Alumni Award; Shristi Dugar received the Harold B. Gotaas Undergraduate Research Award; and Rajan Burt was named the Walter P. Murphy Cooperative Engineering Education Student of the Year.
Ottino ended the ceremony by extending his admiration to the graduates and welcoming them to the McCormick family.
"On behalf of the entire McCormick community, I want to say that it has been an honor and a pleasure to participate in your education and to observe your maturation as individuals and scholars," Ottino said. "The very best to all of you, and I hope to have the pleasure of seeing you at many Northwestern functions over the coming years."