Undergraduate
Industrial Engineering Students Partner with High-Profile Organizations through IE Client Project Challenge
Partners include clients like United Airlines and the Chicago Cubs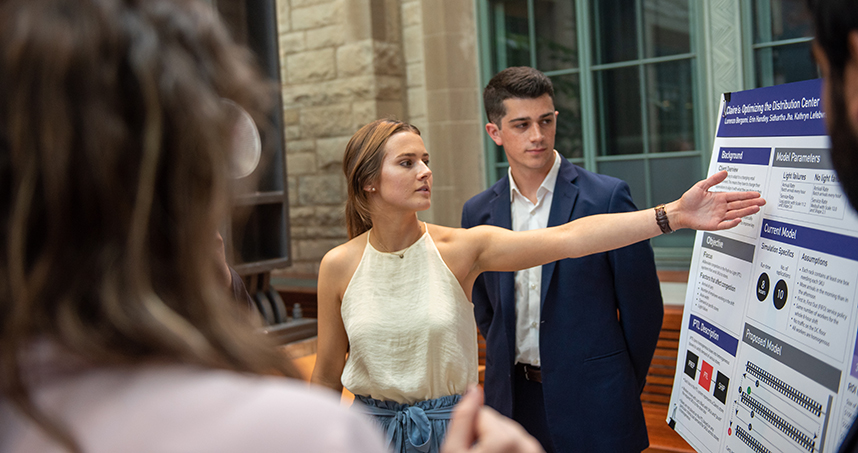 When faced with the frustration of cancelled or delayed flights, some passengers take to social media to get in touch with their airline.
To respond to customer inquiries more efficiently, United Airlines' data analytics and social care teams joined forces with students in Northwestern Engineering's IEMS 394: IE Client Project Challenge course to develop strategies to respond more quickly to customers who reach out via Facebook and Twitter.
United is just one of 15 client partners — including the Chicago Cubs as well as nonprofits such as Ann and Robert H. Lurie Children's Hospital of Chicago — working with the spring quarter class that teaches students how to apply team management and industrial engineering skills to large-scale, open-ended challenges.
On the United project, Mitch Price, a junior studying industrial engineering and political science, and his team are writing a program that takes in Twitter posts and assigns priority levels based on factors like time of day, content, and the users' number of followers in order to better determine what the tweet is about and resolve customers issues most effectively based on the priority level.
"Currently, customers spend a lot of time waiting to get a response from a social care worker," Price said. "We believe this will be a much more viable solution than what they are currently using."
The class aims to provide students insight on how engineering solutions are applied in industry.
"This class has real-world challenges that no other class deals with. The whole idea is that the world is dirty. The world is messy," said Mark Werwath, clinical associate professor of industrial engineering. "Out in the world, the answer to a problem is not found on page 52 in a textbook. You've got to chase down the solution."

Another team worked with the Chicago Cubs to improve the fan experience at Wrigley Field during renovations of the ballpark's upper deck.
"We used the industrial engineering perspective to develop models to show how the renovations are going to directly impact the timing of things like wait times, service times, and customer experience," said Kristen Ferguson, a junior studying industrial engineering.
Ferguson and her teammates worked with Cubs management throughout the quarter, including visits to Wrigley Field to observe challenges in the upper deck while the renovations were underway. The students also interviewed staff to discuss their concerns with bottlenecks during the renovations.
"I now have experience and know what should be prepared to communicate expectations with clients and be able to start projects when I enter the workforce," Ferguson said. "I learned to take it step-by-step and communicate with the team and clients to make sure everything falls in place."
Formerly called Senior Design, the IE Client Project Challenge course is now offered to industrial engineering students in their junior year to help them leverage the experience in their internship and job searches.
"I gained a lot from the class," Price said. "We're tapping into experience with an actual client, and we can use this as something to talk about during recruitment."
The new class structure includes a kickoff event where students meet with their client partners on the first day of class. The students receive support throughout the quarter from an assigned faculty member, helping them with brainstorming and offering technical expertise.
"I would equate this experience to having an internship, so we become better prepared for the real world and having direct contact with a client," Ferguson said.
Other client partnerships this quarter included organizations such as AbbVie, Brewbike, Northwestern Medicine, Claire's, Novomatic, Northwestern Memorial Hospital, Alumnae of Northwestern, and Winzeler Gear.