Honors and Awards
Yonggang Huang Receives Theodore von Karman Medal
Award honors distinguished achievement in engineering mechanics
Northwestern Engineering's Yonggang Huang has been selected to receive the prestigious Theodore von Karman Medal from the American Society of Civil Engineers (ASCE). The medal is given annually to a researcher for "distinguished achievement in engineering mechanics" and is considered the highest award in mechanics from ASCE.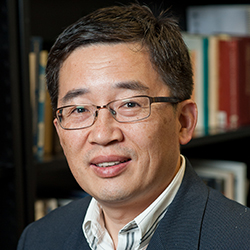 Huang is Walter P. Murphy Professor of Civil and Environmental Engineering, professor of mechanical engineering, and professor of materials science and engineering in Northwestern's McCormick School of Engineering.
"I am deeply honored to receive the Theodore von Karman Medal," Huang said. "It is particularly meaningful to be named among Northwestern Engineering's past recipients of the award — Jan Achenbach, Zdeněk Bažant, and Ted Belytschko."
Huang develops mechanical models for stretchable and flexible electronics for use in biomedical devices and energy harvesting. He specifically works on device design and optimization. He recently worked as part of an interdisciplinary team to design soft, wireless sensors for monitoring babies in the NICU, which provide clinical-grade measurements and allow physical bonding between baby and parent.
Huang's major honors include being named to the National Academy of Engineering in 2017. He was also awarded the Nadai Medal from the American Society of Mechanical Engineers (ASME) and the William Prager Medal from the Society of Engineering Science (SES).
Other awards Huang has earned include a Guggenheim Fellowship, the Young Investigator Medal from SES, and the International Journal of Plasticity Medal. An ISI Highly Cited Researcher in materials science and engineering, Huang also received the Larson Memorial Award, Melville Medal, Richards Memorial Award and Drucker Medal — all from ASME.