Events
Uber Freight's Lior Ron Visits Campus for Patterson Transportation Lecture
Ron gave the talk, "Uberizing Logistics and the Future of Freight" at Lutkin Memorial Hall on May 15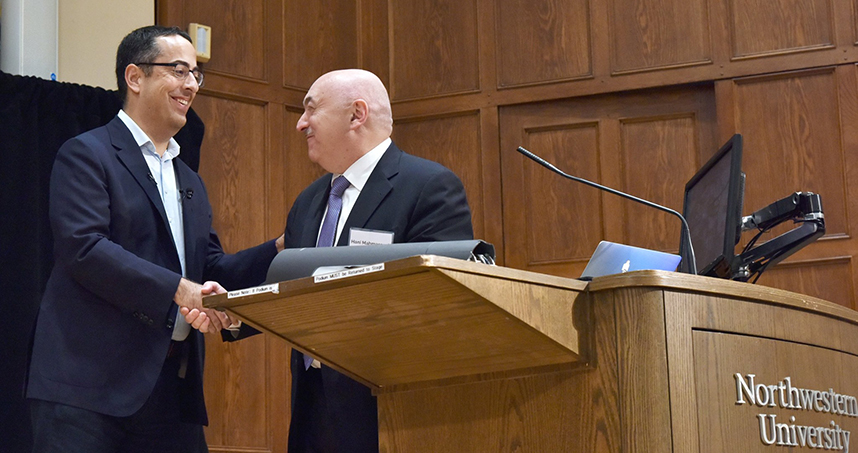 Uber Freight, a logistics-on-demand business unit within Uber, is working to enable more efficient and streamlined shipping for the freight industry by connecting shippers and trucking companies across the US and Europe.
"We're bringing the offline logistics user online. Our goal is to streamline, digitize, and connect a complex industry," said Lior Ron, head of Uber Freight, who visited Evanston campus to give the 38th Annual William A. Patterson Transportation Lecture, on May 15.
"New technology is the crucial piece that enables us to transform the industry in this way, connecting the digital and physical elements of the supply chain," he added.
Ron's talk, "Uberizing Logistics and the Future of Freight," was sponsored by the Northwestern University Transportation Center. The Patterson Transportation Lecture features influential leaders from all facets of the transportation industry. It is supported by the Patterson Transportation Endowment, established at Northwestern in 1979 and honoring the late William A. Patterson, president and chairman of United Airlines from 1934 until 1966.
With companies across industries facing rising logistics costs alongside truck driver shortages, Uber Freight aims to provide transparent pricing and instant access to a mobile-enabled network of reliable carriers who are able to find and book loads with the touch of a button.
Uber sees the future of logistics involving self-driving trucks, or at least semi-autonomous trucking where drivers might focus on short hauls while self-driving trucks tackle the long hauls.
"There's a long road ahead," Ron said. "But the fundamental technological building blocks are there. We believe in our vision to bring a traditionally offline mode of transport, online, creating a new era of opportunity in logistics."
Ron began his career as chief technology officer for Israeli Army Intelligence before joining Google in 2007. There he became the product lead for Google Maps, helping to scale the business from 10 million to 1 billion users. Ron also launched products such as My Maps, Google Map Maker, and Google Local.
After Google acquired Motorola in 2011, Ron was the first Google employee recruited to transform Motorola products, launching the award-winning Moto X and Moto 360 product lines. In 2016, Ron co-founded Otto, a self-driving truck company that was later acquired by Uber.