Events
Student-designed "Boschman" Sails to Victory at 2019 Design Competition
Held at Northwestern Engineering, eight teams brought semi-autonomous robots to compete in a round-robin style tournament based on the classic board game, Battleship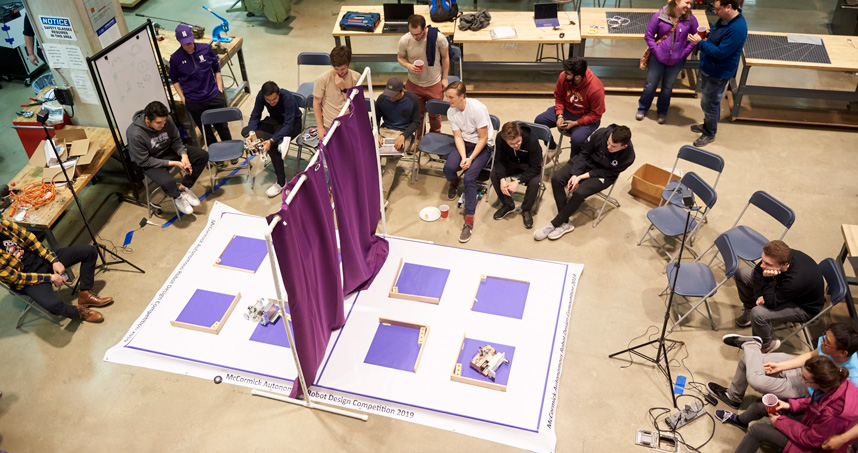 "Boschman," a student-designed robot, sunk the competition at "Battleship," the 28th annual Design Competition at Northwestern Engineering, winning the $1,000 award.
On Saturday, May 11, eight teams brought semi-autonomous robots to compete in a round-robin style tournament based on the classic board game, Battleship.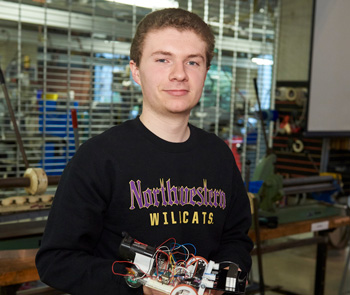 A platform-style arena, set up at the Ford Motor Company Engineering Design Center, was divided into two 6' x 6' squares, with a barrier between them. Each team placed their robot in the opposing team's square, then placed their four "ships" in their own square. The barrier blocked the driver's view of the robots as well as the enemy ships they needed to knock off the table.
The first team that sunk all of their opponent's ships by pushing them off the platform — or that sunk more of them within the three minutes — won the round.
The teams included a variety of engineering majors, who spent three months designing, building, and programing their robots, controlled remotely via Bluetooth which wirelessly sent sensor data back to the students. Team members made unique programs to display and interpret the data.
Top scoring teams were:
First place: "Boschman," developed by Samuel Petrali
Second place: "Moosem" created by Benjamen Lim
Third place: "Walmart Modrons," designed by Brendan Ward and Connor Pan
"Hunter Luckless," with members Paulina Robles and Josh Cho, won the $500 Myke Minbiole Elegant Engineering Award, named for Northwestern Engineering alumnus and 2001 Design Competition winner Minbiole, who worked as an engineer before being killed in a hit-and-run collision in 2007.