Events
Finding Solutions to Drought and Water Insecurity in the Middle East
Researchers proposed solutions at annual Symposium on Water in Israel and the Middle East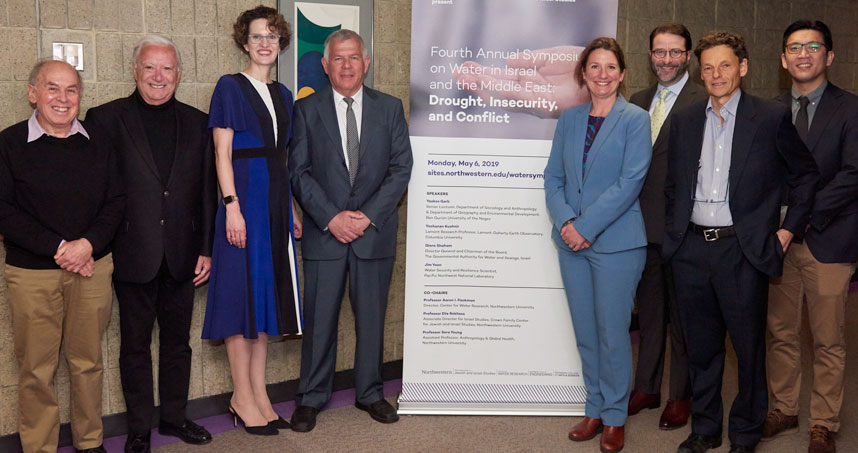 Water — whether for drinking, agriculture, or industry — has become a scarce resource in many parts of the world, often to the detriment of citizens' health and safety. In fact, water has played a major role in conflict in at least 45 countries, including many in the Middle East.
But solutions are not straightforward — they often involve an interplay of science, engineering, anthropology, and economics, not to mention politics. That's why Northwestern University convened scholars for the Fourth Annual Symposium on Water in Israel and the Middle East: Drought, Insecurity, and Conflict.
Held May 6 on the Evanston Campus and sponsored by the Northwestern Center for Water Research and the Crown Family Center for Jewish and Israel Studies, the symposium aimed to start a conversation that could "build toward hope, peace, and prosperity for the Middle East and the world," said Sera Young, assistant professor of anthropology in Northwestern's Weinberg College of Arts & Sciences and cochair of the event.
While the issues seem dire, researchers should focus on opportunities, said Aaron Packman, Northwestern Engineering professor of civil and environmental engineering and cochair of the event.
"It's much better to be optimistic and seek solutions," said Packman, director of Northwestern's Center for Water Research.
Understanding effects of migration and climate change
For Yochanan Kushnir, Lamont Research Professor at Columbia University, the effects of climate change are already clear in the Mediterranean basin. Over the past century, both the temperature and evaporation have increased. The result is regular drought cycles, and the consequences have already caused conflict.
In Syria, for example, the decline in rainfall and increase in temperatures, along with an influx of refugees from the Iraq war, help contribute to a breaking point and ultimate civil war, Kushnir said. The future of the region could easily continue in this cycle, he said, since climate change "certainly will put a huge amount of stress on the region."
In Jordan, where most of the country receives less than 100 millimeters of rain per year, water resources are especially tight, said Jim Yoon, water security and resilience scientist at Pacific Northwestern National Laboratory. The country has had an influx of Syrian refugees, and now has 89 refugees per 1,000 native inhabitants, according to the UN Refugee Agency.
Yoon and his colleagues have developed models to try to determine how different scenarios and strategies would play out to try to find the best way to keep water secure in the area. By combining aggressive supply enhancement through water from the Sea of Galilee along with demand management through a different water pricing structure, the country could keep their water secure for most people, he said. The plan would also include redistribution of water throughout the system. Right now, some people have water one day a week, while others have it four days a week.
"Just by balancing the scales you can significantly improve water security," he said.
Keeping water clean and sustainable
But water insecurity in the Middle East isn't just related to climate and drought. In many areas of Israel's Hebron foothills, the soil and water have become contaminated due to a new black market: electronic waste.
For more than a decade, an informal network of more than 1,000 people has collected the majority of Israel's electronic waste — old cables, computers, and televisions — and have taken it back to their West Bank villages to process it.
Often that means burning it to extract valuable metals, like copper. It's a major source of livelihood for many, but the environmental results are disastrous. Thick, toxic ash covers burn sites and finds its way into the air, covering crops and turning rainwater black. Levels of contamination are extreme — some soil sites where children play have lead levels of 10,000 parts per million. The threshold for such lead levels in the United States is 400 parts per million, according to the Environmental Protection Agency.
Yaakov Garb, senior lecturer at Ben Gurion University of the Negev, began to study this issue in 2011, and found that the downstream effects of this "witch's brew" contamination were widespread. In some neighborhoods, many houses had a case of cancer or a birth defect. He and his colleagues developed a plan to clean up toxic areas through interventions that would allow communities to keep their livelihood through a clean recycling sector. Instead of burning cables to extract copper, for example, they developed a facility that grinds the cables instead.
Eventually they set up a network to keep watch for new burn sites. The communities were invested in the interventions, he said, because they saw the devastation firsthand and because the researchers ensured that one market (extraction) was replaced with another (clean recycling).
"People wanted the change," he said. "We didn't phase in enforcement until we had livelihood alternatives."
Remaining optimistic for solutions
Giora Shaham, director general and chairman of the board for Israel's government authority for water and sewage, said these issues can only be solved by the right mix of ingenuity and leadership around the world.
"I honestly believe that without international recognition of the problem and the urgency needed to solve it, it will not be resolved," he said.
While many people have lost trust and confidence in the ability to create real change among our world's most pressing problems, universities still have the ability to bring together researchers across disciplines to not only find a consensus but also develop solutions, said Annelise Riles, Northwestern's associate provost for global affairs and executive director of the Roberta Buffett Institute for Global Affairs.
"We have an obligation to do it, and we are doing it here together," she said. "This is what peace and sustainable justice looks like in practice."