Honors and Awards
Barry Nelson Receives Distinguished Research Award
David F. Baker Distinguished Research Award honors a career of research
Northwestern Engineering professor Barry Nelson has received the David F. Baker Distinguished Research Award from the Institute of Industrial & Systems Engineers (IISE).
The award recognizes a career of accomplished research that has broadly benefited practitioners, organizations, or other researchers. Nelson, Walter P. Murphy Professor of Industrial Engineering and Management Sciences and codirect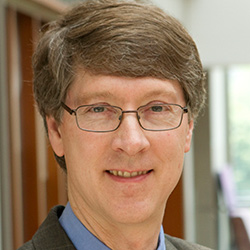 or of the Master of Engineering Management program at the McCormick School of Engineering, accepted the award during the institute's annual conference this month.
Throughout his career, Nelson has studied the design and analysis of computer simulation experiments, particularly issues of statistical efficiency, multivariate output analysis, model risk, multivariate input modeling, and simulation analytics. His research has reached such wide-ranging fields as financial engineering, computer performance modeling, quality control, manufacturing, and transportation systems.
He is a fellow of INFORMS and IIE. He previously received the 2004 IIE Operations Research Division Award for Excellence in the Teaching of Operations Research, and also received the IISE's Modeling and Simulation Division Teaching Award.
"Although my research develops new methods, and is rather mathematical, it is driven by obstacles that keep engineers from using computer simulation effectively in practice," he said. "The Baker Award recognizes contributions that affect real engineers, so it is particularly satisfying to believe that I have actually accomplished that."
In his acceptance speech, Nelson spoke of the connections he has had to David F. Baker throughout his career. He spent the first decade of his career in the David F. Baker Systems Engineering Building at Ohio State. The very first winner of the Baker Award was Alan Pritsker, who taught Nelson his first simulation course and set him on his research path. Pritsker was also on Nelson's dissertation committee, and offered Nelson three pieces of advice:
Writing is the best way to find holes in your thinking.
A result is real when it's in software.
Drive your research by what needs to be done, not what you know how to do.
"I hope Alan would be pleased with the results," Nelson said.