Events
Segal Design Leadership Series Presents Accenture Interactive's Baiju Shah
Shah will present to the Northwestern community on April 17
Combining elements of a business consultancy, creative agency, and technology developer, Accenture Interactive is helping companies redefine customer experiences. At the heart of its work is a focus on human-centered design.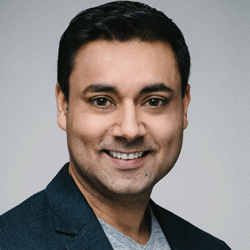 As part of the Segal Design Leadership Series, Baiju Shah, chief strategy officer for Accenture Interactive and global lead at Fjord, will visit campus later this month to discuss design's role in blending creativity and science to lead to breakthroughs.
Called "Design and Strategy: What's Next?," Shah's talk will explore the growing importance of design to business and society, reflecting on insights gained firsthand by leading the acquisition of design and innovation consultancy Fjord, a move that further emphasized design at the center of Accenture Interactive.
Presented by the Segal Design Institute, the seminar will take place at 4 p.m. on Wednesday, April 17 at the James L. Allen Center, 2169 Campus Drive on Northwestern's Evanston campus. A reception will follow at 5 p.m. While there is no charge for attendance, space is limited and reservations will be taken on a first-come, first-served basis. 
Throughout his career, Shah has traversed technology innovation, business strategy and venturing, marketing, and design. He is passionate about bringing these disciplines together to unleash disruptive strategies, rally organizational change, and deliver innovative ways to delight customers. He works across industries to reimagine and shape the strategies and new service offerings of some of today's top brands.
A recipient of several patents, Shah's market perspectives have been featured in Wired, Forbes, AdWeek, MIT's Sloan Management Review, and BusinessWeek. He received an MBA from Northwestern's Kellogg School of Management and a bachelor's degree in computer science from the University of Illinois at Urbana-Champaign.

Register for the event.