Research
Point-of-use Diagnostics Show Potential in Detecting Plant Disease and Beyond
PLANT-Dx can help farmers detect crop disease rapidly with low-cost technology
Current methods for detecting crops with disease require expensive lab equipment located far from the field, but point-of-use diagnostics technology being developed by Northwestern Engineering will be able to help farmers test their crops for disease using nothing but their own body heat to activate the portable technology, called PLANT-Dx.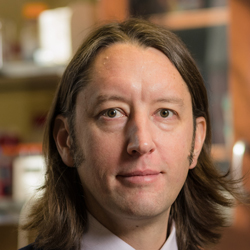 The aim of PLANT-Dx is to help low-income farmers around the world access a low-cost field test to improve methods for detecting viruses and bacteria in their crops.
"These farmers don't really have an avenue to do crop testing," said Julius Lucks, associate professor and associate chair of chemical and biological engineering at the McCormick School of Engineering. "They don't have access to laboratory testing, or if they do, it's too expensive."
Members of The Lucks Lab published their first steps toward proof of concept for this technology in ACS Synthetic Biology. The research is supported by a $100,000 Grand Challenges Explorations grant, an initiative funded by the Bill & Melinda Gates Foundation that encourages research that can break the mold for solving persistent global health and development challenges.
All a farmer needs to do is take a sample of ground-up plant material and place it in a PLANT-Dx test tube that utilizes molecular sensors to produce a visible color if the plant is infected with a virus. Using body heat or ambient heat, the test tube will change colors within a few hours if bacteria or a virus is present.
"If your plant has a disease, then you see this yellow color. Knowing this, farmers can communicate the issue to their neighbors or a local pest management network," said Lucks, a member of Northwestern's Center for Synthetic Biology.
The next steps for PLANT-Dx, led by graduate student Matthew Verosloff and with researchers at Cornell University, involve further field testing and adjusting the technology to detect multiple viruses, producing different colors in the test tubes. Lucks and his researchers are also looking at ways to connect the technology to an electronic data collection infrastructure, as well as speeding up the technology.
"One of the philosophies of this research, which is fun especially here at McCormick, is this whole-brain engineering concept where we're constantly trying to get out of the lab and in the field to talk to people about what they want and what would solve their problems — and then deliver that technology," he added.
Going forward, the Lucks Lab is using PLANT-Dx as a launching pad to create synthetic biology solutions for point-of-use diagnostics technology for a variety of issues beyond crop surveillance, including water quality.
"We're really trying to enable individuals to sense their environment and make decisions to help them be healthier," Lucks said.