Events
Northwestern, SAIC Students Partner through 'Data as Art' Class
Four multimedia art projects will be on display in the Ford Motor Company Engineering Design Center until late February
Producing a pair of cotton jeans requires 2,108 gallons of water. To make leather shoes, it takes 3,626 gallons. Manufacturing an iPad requires much more water: 7,364 gallons.
Three students in the fall 2018 class, Design 375: Data as Art, created model sculptures to reflect the amount of water required to generate these commonplace products, scaled in relation to the size of an average human.
Sixteen students from Northwestern University and the School of the Art Institute of Chicago (SAIC) collaborated to produce information visualization projects, like Their Weight in Water, spanning multiple disciplines and data sets. Their work will be displayed in the atrium of the Ford Motor Company Engineering Design Center until late February.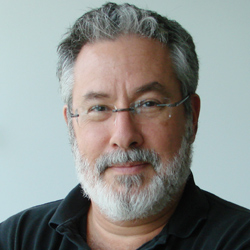 "Some projects took on the task of visualization in a very unique way that was much more visceral and had artistic properties, and other projects really took environmental data and made you aware of their presence in a way that you would not normally," said Larry Birnbaum, co-instructor and professor of computer science. "I thought both kinds of projects were pretty great, and certainly both succeeded in conveying the data in a way that's quite a bit different from standard, prosaic visualization."
Created by Joe Burke ('17, EDI '18), Sora M. Cande, and Vivian Wan, Their Weight in Water can also be viewed as a futuristic sculpture garden using virtual reality technology, showing the sculptures more realistically in comparison to the viewer's own size.
"We found that most of the everyday things we use take a substantial amount of freshwater to manufacture," said Burke, who graduated from the Master of Science in Engineering Design Innovation Program (EDI) in December 2018.
The "Data as Art" class has been offered since summer 2013. Birnbaum and Scott Cambo, PhD candidate in Northwestern's Technology and Social Behavior program, taught the fall 2018 class alongside Christine Shallenberg and Adam Bach, lecturers from SAIC.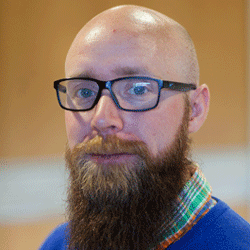 "I think students learned a lot about work around data not being an entirely objective process," Cambo said. "In the sciences, we tend to take an empirical ownership over what data is and how it can be interpreted, but there's quite a lot of subjective decisions that get made even on the science side. On the artistic side, we can really emphasize in creative ways the subjective decisions."
"Even though I majored in mechanical engineering as an undergrad and EDI as a graduate student, l maintained a strong interest in contemporary art throughout that. I tried to take art classes as much as I could to try to express myself that way," Burke said. "This class seemed like a good way for me to take some of my technical experience and marry that to my art practice."
The other projects on display include:
Lighten Up, Chicago!: a viewer-based light installation that responds to real-time temperature data in Chicago
68 Megatons: a sculptural wall made out of plastic waste
Light -> Sound: a screen interpreting light from the room into sound