McCormick in the Media
EDI Students Named Forbes 'Under 30 Scholars'
As part of the honor, Christopher Datsikas and Enes Umur Gokcek attended Forbes's Under 30 Summit in October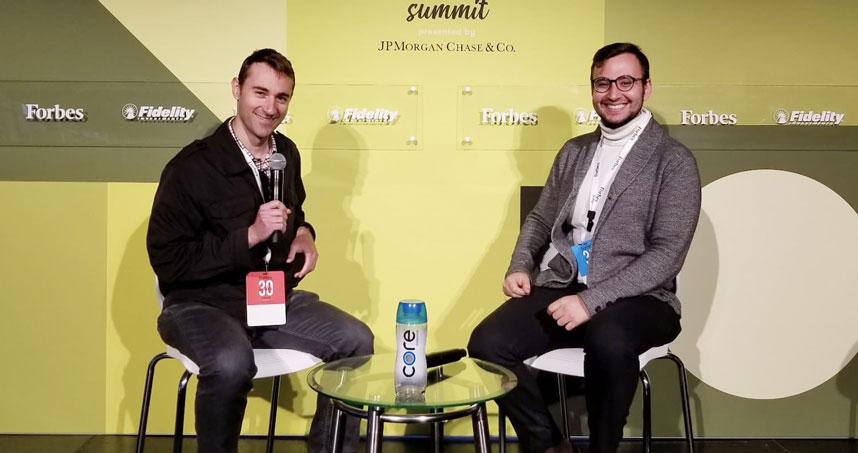 Christopher Datsikas and Enes Umur Gokcek, two students in Northwestern Engineering's Master of Science in Engineering Design Innovation (EDI) program within the Segal Design Institute, have been named to the 2018 Forbes Under 30 Scholars program. Datsikas and Gokcek were among 1,000 juniors, seniors, and graduate students across the country selected in recognition of their academic work in technology and business.
As Under 30 Scholars, Datsikas and Gokcek traveled to Boston in October to take part in Forbes's fifth annual Under 30 Summit. Sponsored by JPMorgan Chase, the four-day event brought together more than 7,000 young entrepreneurs, technology disrupters, and business leaders to network, collaborate, and share ideas with some of today's leaders in innovation. Featuring more than 200 speakers from business, sports, pop culture, and politics, this year's Under 30 Summit presenters included former US Secretary of State John Kerry, AOL co-founder Steve Case, and Flatiron Health co-founder and CEO Nat Turner.
The Forbes Under 30 Scholars Program was launched in 2017 to offer select students free access to the Under 30 Summit as well as accelerated networking opportunities with business leaders. Forbes works with schools across the US — including Northwestern — to ensure that a diverse group of high-achieving students participate in the program.