Honors and Awards
Service Design Course Partners with Feeding America to Address Food Insecurity
Four teams created solutions to help the nonprofit better distribute rescued foods from retail stores
Two statistics taken together showed an opportunity for change: More than 41 million Americans, many facing challenges with mobility and transportation, experience a lack of access to affordable and nutritious foods. Meanwhile, 133 billion pounds of food go to waste in the US each year.
That information inspired four teams of students in DSGN 401-3: Service Design to develop solutions to help Feeding America, the nation's third largest nonprofit, better distribute rescued foods from major retail stores to food insecure community members. Each group of five students, studying in the Segal Design Institute's Master of Science in Engineering Design Innovation (EDI) program, worked in partnership with the nonprofit to address the problem in different ways.
One group's project, NeighbourFood, created a network of volunteers who receive charitable foods themselves but have access to transportation to deliver rescued food to other people in their community with limited mobility.
"A lot of people experiencing food insecurity can sometimes feel marginalized or feel let down. This is one way where they can feel empowered by doing this for the community," said Chris Datsikas (EDI '18), who helped create NeighbourFood.
The work was so successful that it was one of 12 groups from around the world honored during the Design Leadership Conference & Design Value Awards in Boston this month. The Design Management Institute (DMI) recognizes those who deliver significant value through design and design management best practices.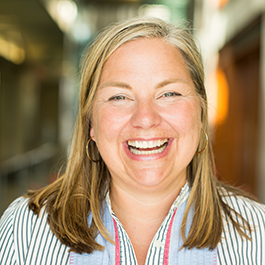 "Design Management Institute brings together design and innovation leaders from the most design-centric companies across the country," said Amy O'Keefe, lecturer and studio director for the EDI program, who led the course with Elisa Vargas, adjunct lecturer and design director at Motorola Mobility. "We're thrilled to see EDI students' work recognized along with many others accomplished in the design field."
During the winter 2018 course, the teams conducted interviews, observed food distribution at local food pantries, and visited grocery stores to talk with managers responsible for rescuing food. The students worked closely with Feeding America's partner, the Greater Chicago Food Depository, through the process.
"We had a very collaborative partnership with Feeding America and Segal to put our human-centered design process into action and apply it in a really concrete and real-life way," Datsikas said. "It was a really cool partnership in that we were able to get close to various stakeholders that are involved in the food refuge and distribution network that Feeding America helps operate."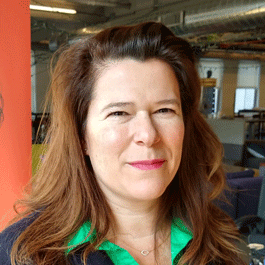 Northwestern Engineering connections helped the students throughout the process. Alumnus Dan Butt (EDI '13), now senior manager of innovation at Feeding America, worked with Maura Shea, the nonprofit's vice president of innovation, to bring the project to the EDI program. During the research process, students worked closely with the Hillside Food Pantry and Hillside Church's pastor Maiya Lueptow, the wife of Richard Lueptow, senior associate dean for research and professor of mechanical engineering.
"It's really rewarding to come back and be able to contribute to the place where I got a great education," Butt said. "It was fun to be on the other side as a client, and being able to work with the students is always a great reminder about the talented people going through the program."
Along with NeighbourFood, other solutions created during the class included a program to increase food donations by incentivizing grocery store employees with tangible benefits. Another group created Bridge, an online platform to connect food suppliers, volunteers, patrons, and agencies. A mobile locker food truck, enRoute, would provide a discrete, secure, and convenient option for those facing food insecurity.
"This project is actually really valuable for us as human-centered design engineers to create impact and innovate to solve problems in the world," said Enes Umur (EDI '18), who also helped create NeighbourFood. "It's impactful to see the experience of food insecurity, and we're grateful to be in a position that our work can make a positive impact on a large scale."