Announcements
Northwestern Engineering Launches New Deep Learning Lab
The lab aims to partner with corporations and startups to address challenges of artificial intelligence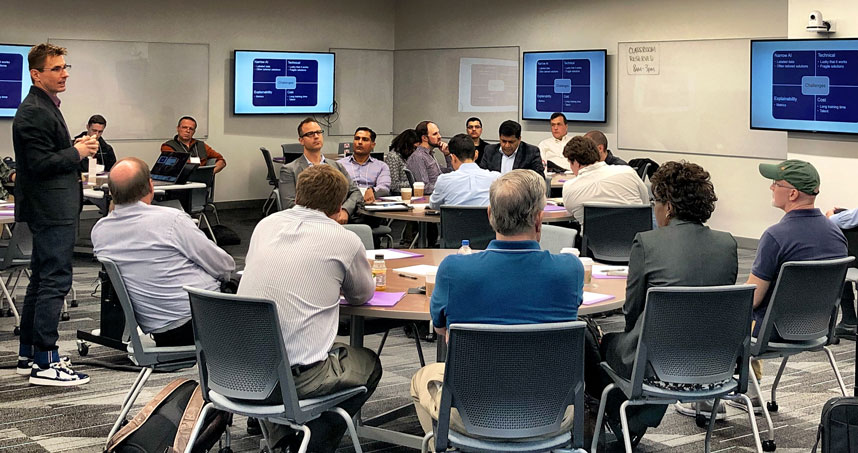 As artificial intelligence grows in prominence, Northwestern Engineering is launching a Deep Learning Lab, which will build a community of deep learning-focused data scientists to service the research and industry needs of the Midwest.
Led by faculty in Computer Science and Industrial Engineering and Management Sciences, the interdisciplinary lab will produce academic research and technological solutions in collaboration with corporate partners, ranging from Fortune 500 corporations to startups and from financial technology to pharmaceuticals.
At the September 24 kickoff, representatives of approximately 30 companies attended the kickoff meeting at the newly renovated Seeley G. Mudd Building.
"It's a wide range of people from diverse industries," said Jim Bray, director of Northwestern's Office of Corporate Engagement. "There's broad applicability of deep learning to different industries."
NVIDIA, the Santa Clara, California-based company which created the graphics processing unit (GPU), is the inaugural partner with the lab. The company has donated high-performance hardware that the lab is already utilizing for deep learning research.
Diego Klabjan, professor of industrial engineering and management sciences and director of the Master of Science in Analytics program, co-directs the initiative with Doug Downey, associate professor of and computer science, and Mark Werwath, director of the Master of Engineering Management program and co-director of the Farley Center for Entrepreneurship and Innovation.
"The lab is an opportunity for folks in the industry to apply this new technology and have it actually provide business impact," Downey said. "It's also affords us as academics an opportunity to gain more insight into the kinds of problems that arise when you try to take this technology out of the lab and have impact as a real-world product."
Within the first year, Downey said, the lab hopes to create technology that results in both academic papers and business value for multiple companies.
"They know that the expertise is coming from places like Northwestern. They come here to hire some of the best data scientists in the world," Werwath said. "It's all very synergistic in the sense that it's all a win-win-win."
Corporate partners will benefit from the talent moving through the lab, able to recruit Northwestern students well versed in deep learning.
"We see a lot of interest from companies in this space, a lot of interest in students coming out in this field, and it's a hot job market right now," said Tim Angell, senior associate director at Northwestern Corporate Engagement. "There's recognition that Northwestern has strength in this area."