Graduate
MS in Artificial Intelligence Program Welcomes Inaugural Class
19-student cohort will learn technical skills, high-level product design during 15-month program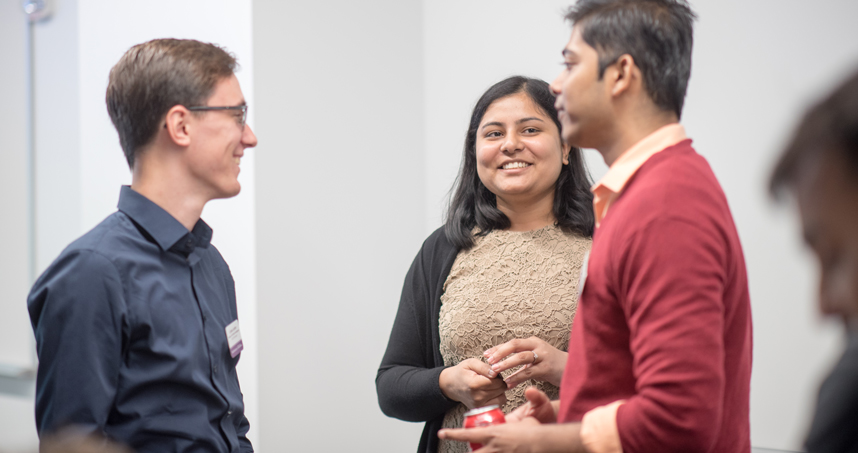 As a mobile computing student at Bingen Technical University in Germany, Lukas Justen immersed himself in application development and robotics. Throughout his studies, he learned how to manage software projects, work in diverse teams, and develop Android and iOS apps.
Yet to progress in his career as a developer that creates smarter, more helpful software, Justen recognized the need for a stronger understanding of artificial intelligence (AI) and the technical skills to implement AI technology within today's economy. He found his next step in Northwestern Engineering's MS in Artificial Intelligence (MSAI) program.
"As a computer scientist, I don't want to be stuck in the past," said Justen, a Fulbright scholar. "It was important to find a program that introduces me to AI. It's a field that represents the future for computer scientists because it allows you to solve problems you couldn't solve before."
Justen is one of 19 students beginning coursework as part of MSAI's inaugural class. The 15-month, full-time program was developed in response to growing demand from industry for computer scientists who are fluent in AI systems and the opportunities the technologies present to streamline workflows, business applications, and human interactions. Focusing on essential AI skills like machine learning, natural language understanding, and automated decision-making, the program also includes coursework in the nature of the human environments where AI systems will be deployed.
"These students are taking serious time off to work with us. They want to become something more than just a developer that's hired at a company. They want to be problem-solvers," said Kris Hammond, professor of computer science and director of the program. "That ambition aligns with our goals for the program. We don't want to teach them something they could learn online. We want to teach them how to plan and problem-solve."
In addition to learning about AI's core ideas and supporting technologies, students will gain valuable experience through internship opportunities at external companies or in full-time summer positions within Northwestern AI labs. Students will also work on capstone projects in conjunction with industry partners as well as build a portfolio of work that will serve them throughout their careers.
That emphasis on bridging classroom theory with industry challenges drew Jaieu Sheil to the program. With six years of professional experience as a developer at companies like Infosys, Mindtree, and BT Group, she understands too well the repetitive nature of writing code. She believes today's data analysis techniques are ripe for more intelligent automation.
"AI is still in the nascent stage, and understanding the motivation behind why we are implementing these technologies is crucial to building the products of the future," Sheil said. "I expect to face a lot that is new to me, but I am excited to learn."
While Justen, Sheil, and the rest of their MSAI cohort embark on the program with unique professional and academic backgrounds, Hammond believes the inaugural class shares the same commitment to success.
"We've only just started, but I am unbelievably thrilled so far," Hammond said.