Deirdre Dennett Named McCormick STAR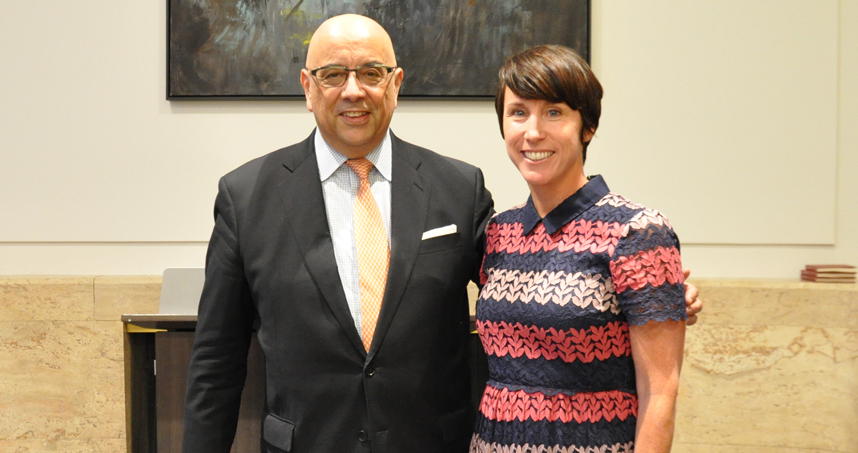 Deirdre Dennett, associate director of McCormick Facilities Administration in Northwestern Engineering's Office of Administration, Finance, Facilities & Planning, received the fourth annual STAR Award at a staff recognition ceremony. The May 3 event took place in the Technological Institute's Cohen Commons.
The STAR Award, which stands for Staff Team Appreciation and Recognition, is an annual honor that recognizes a staff member who goes above and beyond regular job responsibilities.
Dennett was nominated for her efforts guiding several construction projects currently underway in McCormick. Over the past year, she managed the construction development of the third floor of Mudd Hall, the Technological Institute's AB Infill, and faculty labs. She also oversaw office renovations, moves, and backfills.
"As a representative of the Dean's Office, Deirdre plays a pivotal role working directly with faculty, department staff, Northwestern Facilities Management, and numerous construction companies to ensure projects are on track and on target to meet the needs of McCormick," the nomination stated. "No matter the challenge, Deirdre always has an upbeat, positive attitude."
Winners of the STAR Award are nominated by fellow staff and faculty members, and a selection committee recommends a finalist to the dean. Other finalists were Katie Harvey, assistant director in Engineering Career Development; and Cynthia Ross, business administrator in the Northwestern University Transportation Center.