Honors and Awards
Northwestern Team Wins Clean Energy Prize at Rice Business Plan Competition
Student startup NUMiX captures Cleantech Prize at Rice Business Plan Competition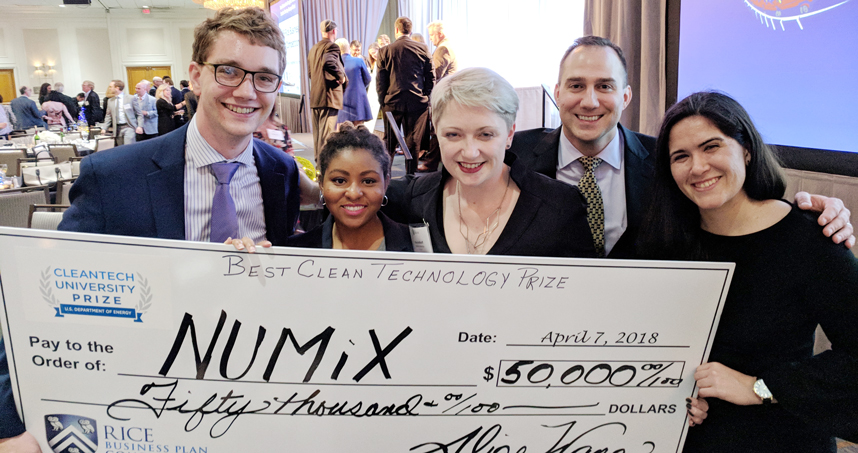 It didn't take long for NUMiX to leave its mark.
At just over 12 weeks old, the Northwestern student startup captured the US Department of Energy's Cleantech University Prize (Cleantech UP) at the 2018 Rice Business Plan Competition on April 7.
The $50,000 award will provide the team with funding for business development, commercialization training, and other educational opportunities.
"It was a surreal experience to win the Cleantech Prize and a wonderful validation of the innovative technology we're working to bring to market," said Katie Kollhoff, CEO of NUMiX and a student in Northwestern Engineering's Master of Engineering Management (MEM) program.
Bringing NUMiX to life
NUMiX launched earlier this year in the Farley Center for Entrepreneurship and Innovation's NUvention: Energy course, an interdisciplinary class that challenges student teams to build cohesive business plans around a sustainable energy or clean tech products and services.
Kollhoff and her teammates – MEM student Matt Heise, materials science and engineering PhD candidate Jonathan Pfluger, mechanical engineering alumna and Master of Science in Law student Laurelle Banta ('17), and Northwestern Law student Olivia Lugar – constructed NUMiX based on patented ion exchange technology created in the lab of Mercouri Kanatzidis, the Charles E. and Emma H. Morrison Professor of Chemistry at Northwestern.
The NUMiX business includes a suite of sorbent powder products capable of collecting metals from water. Such products could be used to clean toxic metals out of industrial wastewater or recover silver in manufacturing processes for reuse.
From the beginning, Kollhoff said the team treated NUMiX as a real business with rich marketplace potential. The group used the engineering backgrounds of its founding members to apply bench science at scale and leveraged support from the Farley Center to ready its business plan ahead of the Rice competition.
"It's rare for a group to be accepted to such a prestigious competition while still enrolled in a NUvention course," said Kollhoff, who also serves as senior safety engineer in Northwestern's Office for Research Safety. "It showed the relevance and potential of our business."
Capitalizing on opportunity
Among 42 teams selected to compete at the Rice Business Plan Competition, NUMiX was one of 15 teams to reach the semifinals before earning the Cleantech Prize.
"It was one of the best possible outcomes we could've hoped for," Kollhoff said. She added that her team attended the competititon "to extract everything possible from the experience," including gathering feedback from prospective investors and customers.
In June, the team will return to Rice University to compete in the US Department of Energy's national Cleantech UP competition for a chance at additional cash funding.
Before that, however, NUMiX plans to use its first $50,000 award to move into lab space and produce material for rapid customer validation. The team hopes to target industrial users required to follow the Environmental Protection Agency's water discharge guidelines, learn more about their needs, and gather water samples to demonstrate how NUMiX products are more efficient and effective than current discharge methods. Long-term, the team looks to develop a suite of materials to pursue larger markets.
"It's exciting to be working with passionate, smart people committed to doing something that can have a quantitative environmental and social impact, and that can also have a tangible impact on customers' bottom lines," Kollhoff said. "We're all drawing energy from one another and from talking to customers about what we can provide them."