Graduate
EDI Class Brings Together Designers and Entrepreneurs
EDI students help solve human-centered design issues for undergraduates working on startups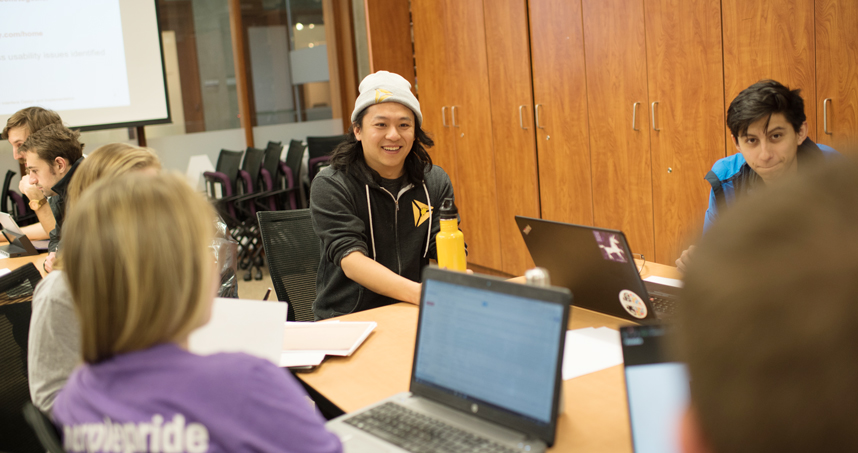 Future designers are learning to work with future entrepreneurs by failing fast and moving forward as two McCormick School of Engineering classes collaborate this winter quarter.
Master's candidates in Segal Design Institute's Engineering Design Innovation (EDI) course "Interaction Design" consult on undergraduates' startups in the Farley Center for Entrepreneurship and Innovation's class "Radical Entrepreneurship."
This Wildcat-to-Wildcat relationship gives the graduate students real-world projects while learning how to make self-directed decisions.
"Instead of telling the students what to do for a client, in this class, we give them a framework for how to make these decisions for themselves," said Haoqi Zhang, who leads DSGN 401-2 and is the Breed Chair of Design and assistant professor in computer science in Northwestern's McCormick School of Engineering. "They need to take ownership of their work and build a conceptual framework."
The 20 graduate students, most with an engineering background, help solve human-centered design issues for the undergraduates' five startups, ranging from a company that makes comfortable suits to a firm that rents posters for dorm rooms.
EDI student Chris Datsikas's team interacts with the undergraduates behind Unruled, a company selling paper notepads for visual thinkers who are environmentally conscious. The student team developed Unruled while in Farley's "Principles of Entrepreneurship" course, and after launching a successful Kickstarter in spring 2017, they entered Wildfire, Northwestern's summer accelerator program. The team now operates its own website and sells the product, which uses a 100% post-consumer waste recycled cover and a 30% post-consumer waste recycled interior, on Amazon Prime — and promises to plant a tree in the Amazon for every purchase made.
"They are very far along in their company and are very professional," Datsikas said. "We look for ways to create novel human interactions, like creating interesting content for their website to encourage people to buy their products. Or, we work on ideas to show their environmentally sustainable mission."
Fast pace
Traditionally, work in design classes build upon each other week after week — first understanding the needs of the end users, then storyboarding, next paper prototyping, followed by computer prototyping, and finally evaluation and testing.
But the pedagogy of 401-2 follows a different path, with all of those steps taught at once, and students expected to work quickly through the decision-making process. Projects are developed in two-week cycles, called sprints.
"The sprints allow the students to fail fast and try again," Zhang said. "It is a taste of working at a startup while still in school."
Sprints give the graduate students four chances in the quarter to develop design plans for their clients — who are also quickly pivoting in developing their overall business plans.
"I warn them — you're going to hate this for about two weeks," said Billy Banks, associate director of The Garage, Northwestern's hub for student entrepreneurship. "They have to deal with ambiguity. There might not be a right answer, and that can be hard for them."
Banks serves as a bridge, co-teaching the EDI course on Monday afternoons as well as the undergraduate class, ENTREP 350-1, on Tuesday evenings.
"My goal is to overwhelm them with options and to get them to prioritize those options. But how they do it is up to them," Banks added.
Design arguments
On a Monday in January, Zhang approaches a key lesson — creating the all-important design argument. He tells his graduate students: "Every time you design I will ask, 'What is your design argument?'"
"Design arguments are the reasons why a design may work. They provide a framework for analyzing, selecting, and evaluating ideas," he said. "You need to build a language for thinking about how to argue for an idea and explain why it is the right move. And, ultimately, we don't just want to know if your design works or not. We want to know why it works or not."
Though the decision process in creating that argument is self-directed, "you don't just do what you want, but you must align your ideas with the goals of the companies," Zhang said.
Every week or so, the design teams meet with the entrepreneurial teams, but the groups stay in touch regularly on Slack.
Sometimes, the designer and the entrepreneurs head in different directions.
This class shows students that their potential solutions to human-centered design issues are not always right — but neither are their clients'. They learn to go back to their research and use their design arguments to convince their clients that their ideas are the most beneficial to the business' goals.
"We teach them how to have difficult conversations," Banks said. "When the groups disagree, they are taught to use their design arguments, and make an argument for your ideas based on your research."
Support system
Zhang, Banks, and Amish Desai, their co-lecturer with a long history in design for startups, provide support and guidance without giving specific direction.
"Having three teachers is very valuable," Datsika said. "They offer a breadth of perspectives, coming from the academic, business, and startup worlds. That's a unique part of the special community that's at Segal."
"We go into the class expecting to be uncomfortable," he added. "But it's so supportive, and we know we can succeed."