Events
Northwestern CS to Host Workshop on Online Markets
'Data Science and Online Markets' to take place Thursday, January 25
In recent years, the online marketplace has expanded beyond the traditional definition. It no longer just includes sites such as Amazon, eBay, and StubHub where users can buy and sell products online. The market has expanded to include all sites where social interactions take place, including Tinder, Uber, and even Wikipedia.
This expanding definition has highlighted a hidden problem: the science of designing and optimizing these online markets is woefully underdeveloped.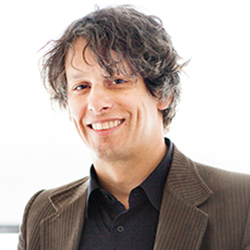 "Designing a marketplace that works well is challenging because the behavior of participants in the marketplace depends on the design of the marketplace," explained Jason Hartline, associate professor of computer science at Northwestern Engineering. "When the rules of the marketplace are changed, the actions taken by participants may change in response. This strategic effect makes adapting the market rules from behavioral data non-straightforward."
To further explore this phenomenon, Northwestern's Computer Science Division has organized a special quarter based around the theme Data Science and Online Markets. Supported by the Bill and Jeanne Bliss Visiting Professorship and the McCormick Advisory Council Visiting Professorship Fund, visiting professors Jacob Abernethy, Constantinos Daskalakis, and Denis Nekipelo will join Northwestern faculty for spring quarter for programming and research in this area.
To preview the special quarter, Northwestern will host a theory workshop this week that broadly considers questions for the design and analysis of online marketplaces in the context of a data-rich world. "Data Science and Online Markets" will take place from 9 a.m. to 1:30 p.m. on Thursday, January 25 in room 4101 of the Kellogg Global Hub. 
"The goal of the special quarter is to study data science and online markets from the combined perspective of the fields of algorithms, market design, machine learning, and economic interference," said Hartline, who co-organized the special quarter.
The workshop program will include three talks:
"Learning Multi-Item Auctions with (or without) Samples" by Constantinos Daskalakis, professor of computer science at MIT
"Measuring the Effect of Online Advertising from Observational Data" by Denis Nekipelov, associate professor of economics and computer science at the University of Virginia
"Building Algorithms by Playing Games" by Jacob Abernethy, assistant professor of computer science at Georgia Tech
Click here for more information about the program and logistics.