Honors and Awards
Narrative Science Receives Chicago Innovation Award
Professors Kristian Hammond and Larry Birnbaum founded the data science startup
Narrative Science, a tech startup that turns data into stories and insights, received a Chicago Innovation Award at the 16th annual awards ceremony on Monday, October 20. Founded by Northwestern Engineering computer science professors Kristian Hammond and Larry Birnbaum, Narrative Science was among 25 winners selected from more than 530 nominees.
The Chicago Innovation Awards recognizes the most innovative new products or services brought to market or to public service in the Chicago region. Winners are invited to ring the NASDAQ closing bell in New York City and meet with Mayor Rahm Emanuel and other high-level business and civic leaders.
Organized around the theme of "Innovation for the Ages," the event took place in Chicago's Harris Theater with more than 1,500 innovation leaders, public officials, and business heads in attendance.
Narrative Science was honored for Narratives for Business Intelligence, a suite of natural language extensions that can be embedded into business intelligence or visualization platforms to explain insights in plain English and mine insights that are not readily obvious in charts, tables, or graphs.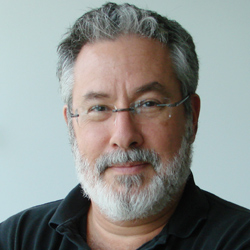 "We're unbelievably happy about winning a Chicago Innovation Award," Hammond, an artificial intelligence researcher and Narrative Science's chief scientific adviser, said in a video. "For us, it's important that this is a Chicago technology. It came out of a Chicago university, and it's centered in Chicago. The reality is that this is something that we want to live, breathe, and grow in Chicago."
Founded in 2010, Narrative Science uses artificial intelligence to extract the most important information from a data source and turn it into a narrative expressed in natural language. The underlying program resulted from a collaboration among Hammond and Birnbaum, their students, and students from the Medill School of Journalism, Media, Integrated Marketing Communications. The company also won a Chicago Innovation Award in 2011 and has been featured in The New York Times, Wired, Business Insider, and elsewhere.
"Stories are the bridge between numbers and knowing," Hammond said. "The numbers don't tell you anything. It's the understanding of those numbers and translating them into something that is readable that's a story that matters."