Honors and Awards
Two Scientists Receive Grants to Develop New Materials
Chad Mirkin and Monica Olvera de la Cruz recognized by Sherman Fairchild Foundation
Northwestern University's Chad A. Mirkin and Monica Olvera de la Cruz have received significant five-year grants from the Sherman Fairchild Foundation in support of their innovative materials science research.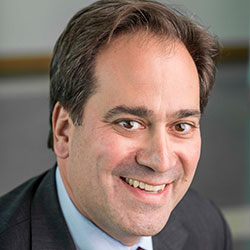 Mirkin, the George B. Rathmann Professor of Chemistry at the Weinberg College of Arts and Sciences, will receive $5 million to develop a novel design method called "nanocombinatorics." The chemistry-based approach would systematically and comprehensively screen innumerable nanomaterial combinations and identify the most promising for a given area of study or application. The resulting encyclopedic resource of high-performance nanomaterials could be used in energy production, environmental remediation, health care, computing technology and homeland security.
Olvera de la Cruz, the Lawyer Taylor Professor of Materials Science and Engineering in the McCormick School of Engineering, will receive $4.5 million to accelerate the discovery of new functions and application of synthetic structures, including hybrid biological and synthetic assemblies. She will focus on structures that mimic and enhance the action of protein membranes and cells to better understand biological functions, with applications in environmental remediation and health care. The project promises to push forward the field of biomimicry, which seeks to solve pressing problems by emulating nature.
Both awards count toward We Will. The Campaign for Northwestern, a $3.75 billion University-wide fundraising effort.
Mirkin is world-renowned for his nanoscience expertise and invention of spherical nucleic acids and the development of biological and chemical diagnostic and therapeutic systems based upon them. He also is director of Northwestern's International Institute for Nanotechnology and a professor of medicine, chemical and biological engineering, biomedical engineering, and materials science and engineering.
Olvera de la Cruz is recognized internationally for her contributions to analyzing, modeling and designing new materials that mimic effective biological processes. She also is a professor of chemical and biological engineering, chemistry, and physics and astronomy and director of the Center for Computation and Theory of Soft Materials.
The funds raised through We Will. The Campaign for Northwestern are helping realize the transformational vision set forth in Northwestern's strategic plan and solidify the University's position among the world's leading research universities. More information on the "We Will" Campaign is available at wewill.northwestern.edu.